German company Sonnen has been building a presence in the residential solar energy storage market in Australia with its sonnenBatterie eco intelligent storage system, which is available in a variety of storage capacities.
Headquartered in the Bavarian village of Wildpoldsried, Germany, where the sonnenBatterie is designed and manufactured, Sonnen has expanded into a number of markets around the world, with Australia one in which it is pursuing growth.
Sonnen says it wants to enable people to determine their own energy future, which it states "means, among other things, the inexpensive production and storage of renewable energy and the intelligent networking of producers and consumers".
Among the key features of the sonnenBatterie eco system are smart energy management and adaptability to individual circumstances, providing users the capability to manage their system according to their individual requirements.
"The sonnenBatterie is not just a battery, it's an intelligent storage system that automatically adjusts the energy usage in your household," Sonnen states. "In combination with solar panels, the sonnenBatterie will enable you to supply yourself with clean energy – thus making you independent and protecting you from energy price hikes."
Compare Electricity Plans
How does the sonnenBatterie eco work?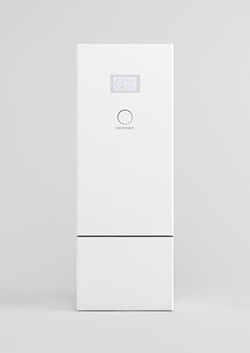 The sonnenBatterie eco uses lithium iron phosphate battery technology, with it having a lifespan of 10,000 charge cycles, and available with usable battery capacities of: 2 kWh, 4 kWh, 6 kWh, 8 kWh, 10 kWh, 12 kWh, 14 kWh and 16 kWh.
Sonnen states of its sonnenBatterie systems: "Over time they will be charged and discharged many thousands of times. For that reason, the sonnenBatterie is based on the most reliable and sustainable battery technology available, and exclusively uses lithium iron phosphate batteries (LiFePO4)."
sonnenBatterie eco specifications:
Usable battery capacity – 2 kWh – 16 kWh
Maximum battery efficiency – 98 per cent
Lifespan – 10,000 charge cycles
Charging time to 90 per cent (approximately) – 1.5 hours – 4.5 hours
Operating mode – single-phase and three-phase
Output – 1.5 kW – 3.0 kW (single-phase), 1.5 kW – 3.3 kW (three-phase)
Battery service life – designed for 20 years
What makes up the sonnenBatterie eco system?
Sonnen states that the sonnenBatterie in combination with a PV system "will allow you to cover about 75 per cent of your yearly energy requirement with self-produced and clean energy", describing the sonnenBatterie as "a complete system – ready for connection".
"This means that inside of every sonnenBatterie, you'll find not only the extremely durable battery modules, but also an inverter, an intelligent energy manager, measurement technology and the software to operate it all smoothly," Sonnen states.
The sonnenBatterie components are built "into a single high-quality casing and perfectly attuned to each other – thereby ensuring a very high longevity and maximum quality with a small footprint".
The sonnenApp, meanwhile, allows users to check their energy usage and production, with it available for both Android and iOS devices. Owners can use the sonnenApp on your smartphone or tablet to monitor, analyse and control the supply and demand of your household.
Installation
The modular design of the sonnenBatterie provides for flexibility, with Sonnen stating that "it was developed as a multi-stage storage system that can be adapted to the most diverse energy needs".
"With storage sizes ranging from 2 kWh to 16 kWh, the sonnenBatterie will power a detached house or a multi-family house," Sonnen states. "The sonnenBatterie's energy capacity can be individually expanded in blocks of 2 kWh, should you ever feel the need to increase the power storage in your house."
In terms of adding to capacity, Sonnen states that "multiple sonnenBatterie can be set up as a cascading cluster", up to a maximum of 48 kWh.
The sonnenBatterie comes with a 10-year warranty, with its measurements ranging from 70 x 64 x 22 cm to 184 x 64 x 22 cm across its different models, with weights ranging from 55 kg to 273 kg.
Interested in buying a sonnenBatterie eco system?
Consumers interested in purchasing a sonnenBatterie eco system can find further information via the Australian section of the Sonnen website. Consumers can get in touch with Sonnen via a contact form via the website, with the option of requesting a callback, with Sonnen stating that it usually answers within 24 hours.