South Australian-based ZEN Energy traces its origins back to 2004, having been established to develop innovative and sustainable energy technologies, with its ZEN Freedom PowerBank energy storage system forming part of its suite of solar products.
CEO Richard Turner founded ZEN (the name represents "Zero ENergy"), with the company "dedicated to taking the guesswork out of solar home energy systems".
ZEN Energy states that it believes home energy will be the future of energy generation as a sustainable, self-managed solution and that Blue Energy – making it possible for Australians to become their own energy producers – will be the next step in creating a revolution in the solar energy sector.
"By producing your own power, you can actually make money and it's better for the environment," ZEN states of Blue Energy. "You the customer benefit by saving money and the environment benefits from a reduction in carbon emissions."
What does ZEN Energy offer?
ZEN Energy has been one of the early movers in the Australian residential energy storage market, with the PowerBank originally introduced in 2012.
"This technology is a game changer for the renewable energy industry, and has the potential to change the way individuals and communities use electricity in the future," Mr Turner commented at the time.
ZEN Energy has since built upon its product offerings, and now offers a number of home solar energy storage models, providing grid-connect and off-grid options, as part of its line-up.
The ZEN Freedom PowerBank is for homes that are connected to the electricity grid and provides flexibility for the user to decide the level of grid independence they are seeking, according to ZEN.
The ZEN Freedom PowerBank is also for those who want complete energy independence and go completely off-grid. The storage system has full integration with a back-up generator that can top-up the batteries if running low from extended periods of inclement weather.
Compare Electricity Plans
What technology does the ZEN Freedom PowerBank use?
The grid-connect PowerBank systems, which employ lithium-ion polymer battery technology, are available in a number of sizes.
The standard ZEN Freedom PowerBank range has been designed to suit the most common home energy profiles, ZEN states, with on-grid options to suit homes with average energy usages of 15 kWh, 20 kWh and 25 kWh per day.
The grid-connect systems comprise ZEN's:
FPB12.8 – designed for grid-connected homes using on average 15 kWh per day, with a suggested accompanying solar system size of 5 kW
FPB16 – designed for grid-connected homes using on average 20 kWh per day, with a suggested accompanying solar system size of 7 kW
FPB19.2 – designed for grid-connected homes using on average 25 kWh per day, with a suggested accompanying solar system size of 8 kW
Across the FPB12.8, FPB16 and FPB19.2, the PowerBank systems comprise:
Operating system – ZEN Battery Control System
Control module – 5 kW/48 V single phase (FPB19.2 upgradeable to 7.5 kW)
Maximum continuous back-up power – 5 kW (FPB19.2 upgradeable to 7.5 kW)
Storage capacity – 8, 12.8 kWh; FPB16, 16 kWh; FPB19.2, 19.2 kWh
Energy available at stated depth-of-discharge (maximum battery life 6000+ cycles) – FPB12.8, 10.24 kWh at 80 per cent DoD; FPB16, 14.4kWh at 90 per cent DoD; FPB19.2, 17.28 kWh at 90 per cent DoD
The FPB12.8, FPB16 and FPB19.2 come with a five-year control system warranty and a 10-year battery warranty.
ZEN states of its grid-connect offers that they provide functionality including:
Enables users to store and use their own renewable energy
Allows users to charge from the grid during off-peak periods
Provides full back-up power in the case of a grid outage
Designed to provide continuous bi-directional power
Completely integrated system with full autonomous control over the solar system
Full system dashboard so users are in control
Utility-grade strength and durability
Reliable, utility tested, with 24-hour technical support
"The ZEN Freedom PowerBank is programmed in our factory with all the smarts it needs to run your home," ZEN states. "It even knows when you are on holidays – powering down your solar system to only take in as much power as it needs to recharge itself and manage loads such as fridges and freezers that may still be switched on."
ZEN also provides larger off-grid options and can customise systems for individual households and businesses.
ZEN Freedom PowerBank installation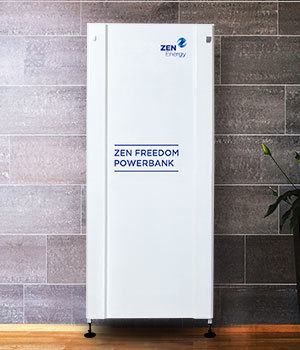 ZEN's PowerBank models make up part of its broader range of solar products, with the company tailoring its systems for individual homeowner requirements.
"We find out how much energy you use, when you use it and what you pay, then design a system specifically to suit your needs," ZEN states of its approach. ZEN adds that its PowerBank has been designed for unobtrusive and compact installation.
"In most cases, ZEN can install the system comfortably in a regular home garage or any other discreet location you'd prefer," ZEN states. "The contemporary and durable design ensures your hard-working PowerBank will continue to work tirelessly without getting in your way."
In terms of size, across its grid-connect range, Zen's PowerBank measures in at 1,800 x 800 x 580 mm.
Interested in buying a ZEN Freedom PowerBank?
In addition to the PowerBank, ZEN Energy offers a variety of solar products, but it's worthwhile considering all options in determining what solar set-up is best suited for your individual circumstances.
ZEN provides further information via its website, and consumers can also search for more specific queries via its website search function. Those interested in the PowerBank can contact ZEN by phone, and also have the option of submitting an enquiry form its website.