Indigenous-owned, Brisbane-based renewable technology company AllGrid Energy has set out to make an impact in the growing residential solar energy storage market with its WattGrid system.
AllGrid Energy, which has brought a number of groups together in developing its WattGrid storage system – including CIH Solar and DICE Australia – states that it "brings together high levels of expertise, our extensive networks with clients, contractors and customers, and our passion for sustainability and renewable technologies".
"Together we have combined to create a new entity that will not only bring the first state-of-the-art affordable storage to the Australian public, but as an indigenous corporation a percentage of our profits will create training and work programs for indigenous youth of Australia," AllGrid states.
"With battery storage set to radically alter the production and supply of power for domestic and commercial consumers, the AllGrid team are perfectly poised to ride the crest of this transformative energy wave."
AllGrid Energy notes that, while battery storage has existed for a long time in Australia, prices had made solar batteries inaccessible to most consumers, stating that it was inspired to develop an affordable and quality product that is more accessible for all Australians.
What does AllGrid Energy offer?
The WattGrid solar storage system was launched in 2015, making AllGrid Energy one of the early entrants in a market poised for growth in the coming years. The WattGrid system is described as an affordable, small-scale, all-in-one battery storage system for both residential and commercial use.
The WattGrid system works alongside existing solar panel installations, enhancing their performance by capturing excess solar power throughout the day, storing it and then providing it during peak energy consumption hours.
The WattGrid system comes in 7 kW, 10 kW and 12 kW storage capacities, while it should be noted that AllGrid Energy also offers a lithium-ion battery version.
What battery technology does the WattGrid use?
AllGrid Energy's WattGrid systems use tubular lead-acid gel batteries, with AllGrid stating that its "WattGrid 10 and WattGrid 12 use tubular gel batteries, as it is a proven, safe and reliable technology that has enabled us to deliver a cost-effective system to the Australian market".
"Deep-cycle gel batteries are a proven technology with over 50 years of testing and improvement," AllGrid states. "OPzV gel batteries are regarded as the most robust and maintenance free, with proven cycle life in isolated regions."
With the average family home using approximately 24 kWh per day, with 4 kW of solar panels and the WattGrid 10, up to 17 kWh per day could be saved, equating to 70 per cent of average daily use.
"Four kW panels producing from 10am until 2:15pm = 17 kW of electricity," AllGrid Energy says. "Ten kW is exported to WattGrid and the remaining 2 kW per hour is used by the house through the solar generation hours. WattGrid then supplies the house with electricity through the late afternoon and evening."
What makes up the WattGrid system?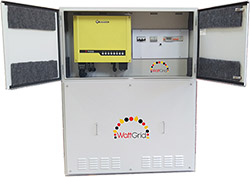 AllGrid Energy states of the operation of the WattGrid, that the system automatically draws energy from the battery when PV energy output is insufficient to support connected loads if the battery capacity is above 40 per cent state-of-charge.
If battery capacity is also insufficient to meet requirements, then electricity will be drawn from the grid.
"Watt ES series inverter (hybrid inverter) is bi-directional, which applies to grid-connected PV systems with battery-stored energy," AllGrid states. "Energy produced by the PV system is used to optimise self-consumption; excess energy is used to charge the batteries, and then the batteries supplement the house-load when the PV energy is inadequate."
AllGrid Energy states that there are four basic work modes to the WattGrid system:
Energy produced by PV is preferred by the local loads and excess energy is used for charging the batteries
If there is no PV, batteries will supplement the house-load along with the grid
Grid failure, when blackout occurs the UPS (uninterrupted power supply) function automatically powers designated back-up circuits, such as lighting and fridge circuits
Time-of-use customers, battery supplies energy only in peak-hour times, ensuring maximum return-on-investment
Of its UPS function, AllGrid says: "When or if the grid electricity fails, the WattGrid unit will automatically default to UPS mode, which will provide power to your home during the blackout.
"As there is limited power supply in this mode, we recommend that you nominate an electrical circuit in your home that is the most important for you (e.g. your refrigerator and lighting circuit)."
Meanwhile, the WattsHappening app additionally allows users to access real-time information on the operation of their system.
AllGrid Energy states that the WattGrid provides:
Maximising the use of solar panels
Use your own power when you need it most
Delivers power during blackouts
Saving more Co2 emissions
Offset costly peak-hour demand rates
Stores excess power to use during the night
Save up to 70 per cent of power usage
Installation
The WattGrid can be used with existing solar panels, with AllGrid Energy advising that a minimum 3 kW is required, ranging to a maximum of 7 kW, with the system coming with AllGrid's inverter, meaning that the existing inverter will no longer be required. For consumers without a pre-existing solar system, AllGrid can also provide solar panels at an additional cost.
The WattGrid, which measures in at 516 x 440 x 184 mm and weighs in at 30 kg, can be installed either indoors or outdoors.
AllGrid Energy states that the WattGrid system can work completely off-grid, with a diesel generator also connected as back-up. Up to three WattGrid units can be added on the same premises.
The WattGrid comes with a five-year warranty for all components.
---
Read more: How much does solar installation cost?
---
Interested in buying a WattGrid system?
Consumers interested in purchasing a WattGrid system can get in touch with AllGrid via phone or via an enquiry form via the AllGrid website. The WattGrid is priced at:
Introductory offer: 10 kW system, $12,999 (not available with finance, not including GST and install)
Recommended retail price: $14,699 (available with finance, not including GST and install)
While these prices seem indicative of the industry in general, it's still worth comparing costs between different solar providers to find the deal that works best for you.