The month of September brings a jump in the number of solar rebates available to Victorians.
Following the revamp of the Victorian Government's Solar Homes Program, the number of rebates available has almost tripled between August and September.
From this month, the Solar Homes program will introduce a second release of solar PV rebates per month, on average doubling what would have been previously available. This will add up to an additional 23,000 rebates this financial year.
Minister for Solar Homes, Lily D'Ambrosio, has praised the program for helping approximately 35,000 households to date in funding a solar system, claiming it has helped cut power bills by hundreds of dollars a year.
"We've listened to Victorians and to the solar industry about how we can make Solar Homes even between," she said. "These measures will mean cheaper bills for more Victorians this year and provide a shot in the arm for the industry."
According to Energy Matters, the popularity of these rebates is insurmountable, with the total allocation, or 3,767 rebates, snatched up within 90 minutes after their release on the first of the month.
The rebate remains steady at a value of $2,225 or 50% of the cost of a solar system, including installation, whichever figure is lower.
As you can see below, the first release this month brought 6,500 solar rebates to Victorians, with another 3,250 expected to hit the cold St. Kilda shores in two weeks.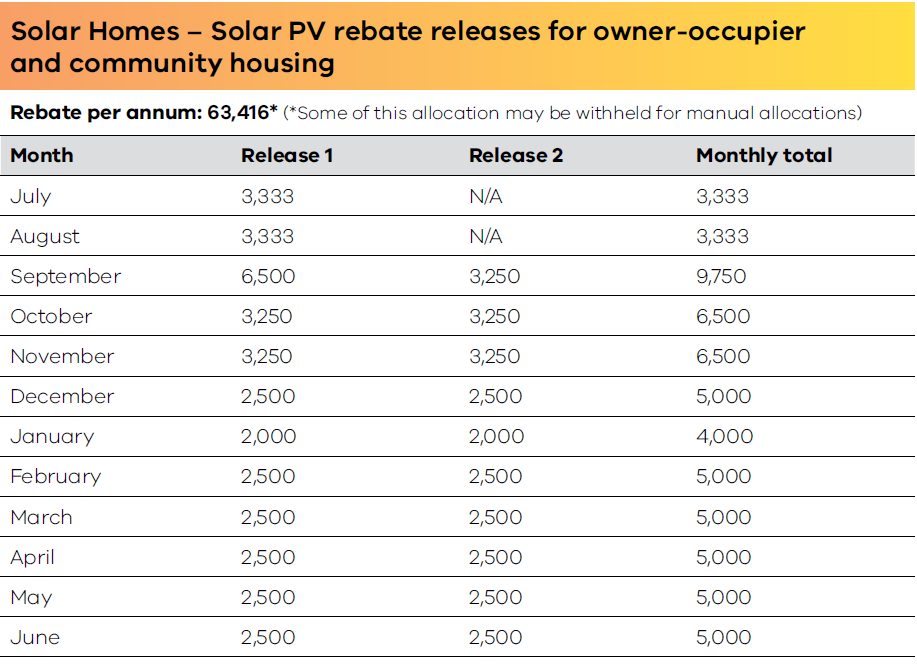 Other updates to the Solar Homes Program
Availability isn't the only thing about to change for the Solar Homes Program. Here's what else the government is doing to improve the program:
Retailers will be able to lodge final online quotes on the Solar Victoria portal at any time. This aims to reduce pressure on retailers themselves and the system as the influx of claims roll in each fortnight.
To be established is an Industry and Customer Reference Group, which will be put in place to strengthen ties with the solar industry and provide a conduit for their feedback to Solar Victoria.
More industry briefings and webinars will be implemented.
A new business mentoring program will be put in place and conducted by Small Business Victoria.
An increase in the emphasis on safety will happen with more post-installation audits.

Image credit: travelfoto/shutterstock.com, Solar Victoria