Every two years, the greatest minds from around the world are lured to the Australian outback to compete in what's known as the 'World Solar Challenge'. Think Dakar Rally with a greener twist. Throw in outlandish designs, state-of-the-art technology, and a will to win – that pretty much sums up the World Solar Challenge. In this article, we'll explain what the race is all about, plus list competing nations and other interesting facts.
What is the World Solar Challenge?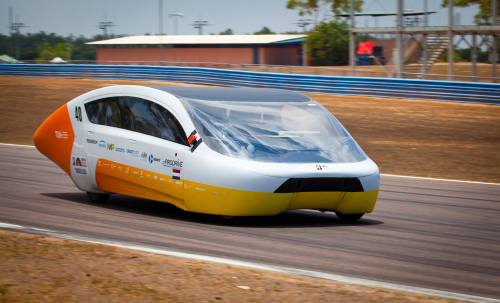 The World Solar Challenge is an international solar-powered car racing event that takes place in Australia biennially. Originating in 1987, the event covers more than 3,000 kilometres across the Stuart Highway, from Darwin down to Adelaide. Officially known as the 'Bridgestone World Solar Challenge', this competition is exclusive to vehicles powered only by energy produced by the sun.
Each participating team has to create a car using no more than six square metres of solar panels, and are only allowed up to 5kW hours of stored energy. There are nine compulsory checkpoints during the race, sprawled across the Northern Territory and South Australia. At each checkpoint, teams are only allowed to perform basic maintenance on their solar vehicle.
The race was inspired by solar pioneers, Hans Tholstrup and Larry Perkins, who built and drove a customised solar car across Australia from west to east. Current sponsors of the World Solar Challenge are the South Australian Tourism Commission, Bridgestone, Tourism NT, Flinders University, CSIRO and Eguana Technologies, to name just a few.
When is the next World Solar Challenge?
The Bridgestone World Solar Challenge was fittingly announced on World Environment Day, and will be held from 22 to 30 October 2021. The grueling race is in its' 16th edition and will feature a host of new features in 2021, with activities for families and schools, as well as events focusing on innovation, technology and sustainability.
Where does the World Solar Challenge take place?
The race begins in Darwin, Northern Territory and ends in Adelaide, South Australia. Along the journey there are nine checkpoints that competitors must pass through, including Katherine, Daly Waters, Tennant Creek, Barrow Creek, Alice Springs, Kulgera, Coober Pedy, Glendambo and Port Augusta.
What type of cars race in the World Solar Challenge?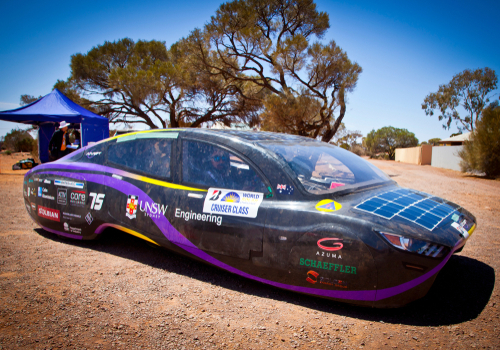 There are three different class types of vehicles in the World Solar Challenge. Each competing team has to enter their car into one of the following classes:
Challenger Class: A compact, single-seated vehicle designed for speed
Cruiser Class: An efficient and practical vehicle with more than one seat
Adventure Class: Non-competitive class for vehicles entered in past events
Which countries participate in the World Solar Challenge?
There are various teams participating from a number of international schools and universities:
Australia
Belgium
Canada
Chile
China
Germany
Hong Kong
Italy
Japan
Netherlands
Poland
Saudi Arabia
South Korea
Sweden
Switzerland
Thailand
Turkey
United Kingdom
United States of America
World Solar Challenge 2019 Results
According to the Bridgestone World Solar Challenge website, the 2019 winners of the race were:
Challenger Class
1st Place – Agoria Solar Team (Belgium)
2nd Place – Tokai University Solar Team (Japan)
3rd Place – University of Michigan Solar Car Team (United States of America)
Cruiser Class
1st Place – Solar Team Eindhoven (Netherlands)
2nd Place – Sunswift (Australia)
3rd Place – IVE Engineering Solar Car Team (Hong Kong)
World Solar Challenge 2021: What to expect
If 2019 is anything to go by, the World Solar Challenge in 2021 will surely live up to expectations. Given the event's rise in popularity and a society that's constantly enthralled by solar energy, this competition is bound for new heights. But don't take our word for it.
World Solar Challenge Event Director, Chris Selwood AM, said the race continues to exceed expectations.
"Each event raises the bar – pushing these teams by making the regulations more difficult. The best of these solar vehicles can cover distances of up to 1,200 kilometres without charging from the grid – that's superior to most electric vehicles on the market today," Mr Selwood said.
"Combine that with smart features, energy sharing capability like Eindhoven's Stella Era, billed as a charging station on wheels, and we see our driving future is already here."

Image credits: Jason Benz Bennee/Shutterstock.com