If you've ever queued outside your local ALDI supermarket at 6am on a cold morning to get your hands on the latest Special Buy – or been wrestled to the ground by another eager shopper on your way to the middle aisle – this will be good news for you.
ALDI has hinted that it may make its most popular Special Buys available more often, and also looks set to start using a ticketing system to avoid the unsavoury scenes of the past where scuffles and even full-blown fights have broken out over new big screen TVs or the like.
The potential change in Special Buy strategy comes at a time when ALDI has been facing scrutiny over the manner in which its sales events are held and the number of products made available at individual stores.
ALDI spokesman Adrian Christie told 7 News: "People go running in for the discount [products] and that's not the behaviour we want to see."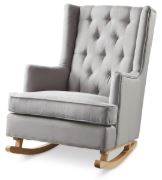 When it comes to large Special Buys – such as ALDI's now famous grey rocking chair – there are reports that as few as eight products may be available at any one store at the start of an event.
ALDI has denied suggestions it has been "baiting" shoppers with insufficient stocks. It also looks set to introduce a new "ticketing" system to help manage the rush for its most popular items.
Already trialed at some stores, the idea is to ensure that the first in line are the first served.
In the most recent example of shoppers rushing straight to the middle aisle, the ALDI grey rocking chair quickly sold out from stores across the country.
But the good news is that popular products like these may become available in store more frequently than just once a year.
"That rocking chair has sold particularly well on all occasions, so that means we sell it multiple times a year now," said Mr Christie.
ALDI rated Australia's favourite supermarket chain
In Canstar Blue's 2018 supermarket ratings, ALDI was the only chain to earn five stars from shoppers for overall satisfaction, ahead of Foodland with four stars and IGA, Coles and Woolworths on three stars.
ALDI was also the only supermarket to receive top marks for special deals and value for money.
The ratings were based on a survey of close to 3,000 shoppers, with ALDI also praised for its store layout and quality of private label goods.
ALDI was rated ahead of the pack for the fourth time in five years.
Foodland, which finished ahead of ALDI in 2017, once again performed well with five stars for food freshness – the only chain to achieve top marks in this area – and product variety.
IGA was the only supermarket to rate five stars for customer service, while Coles and Woolworths shared similar results across the board, including five stars for store layout, four stars on value for money, but only three stars for service.