Ice cream lovers rejoice! You can now have Baskin Robbins delivered to your door without leaving the comfort of your couch!
Baskin Robbins has announced a partnership with food delivery giant Uber Eats, allowing you to order ice creams, sundaes, shakes and cakes from local Baskin Robbins stores.
"We are excited to partner with Uber Eats to offer our wide range of desserts to guests across Australia. This new partnership will make our delicious ice cream flavours more convenient and accessible for many guests," said Ben Flintoff, general manager at Baskin Robbins Australia.
Until December 31, new Uber Eats users will also have $10 off Baskin Robbins ice cream within Australia where Uber Eats is available, using the First Time Eater code (BASKIN10) when signing up to the app (valid at participating stores).
Baskin Robbins classic sundaes, ice cream pizzas, sticky date puddings, Belgian waffles and chocolate brownies are also available for pairing with different ice cream flavours.
According to Inside FMCG, Baskin Robbins has also announced three new stores to open in Sydney (Bondi Beach, Parramatta and Bankstown) in October, with three more under review as it expands across New South Wales. Targeted locations include Penrith, Liverpool and Sydney CBD.
"Our growth plans focus on New South Wales as we continue to identify high profile locations within the Sydney market and where the penetration of ice cream consumption follows population growth," said Mr Flintoff.
"We're excited to begin the search for talented, motivated, home grown people to own and operate the new Baskin Robbins stores – franchise partners that align with our values and long term plan."
The Baskin Robbins stores are franchise partner owned stores, with the exception of Bondi Beach, which is the flagship store for the ice cream brand.
Other Desserts on Uber Eats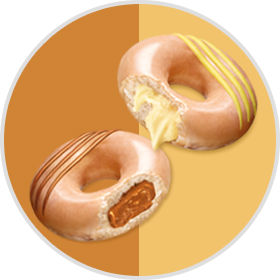 For all you sweet tooth's out there, Uber Eats has a tasty line-up of mouth-watering dessert options on offer. Along with Baskin Robbins you'll also find:
Acai Brothers
Ben & Jerry's
Cold Rock
Krispy Kreme
Max Brenner
San Churros
Krispy Kreme in particular has recently introduced its Delivery Light which, when lit up, indicates that deliveries are free of charge. It has also brought back Original Filled doughnuts, one filled with classic custard and the other with salted caramel. Available only at 7-Eleven until October 1.