When it comes to exercising, there's no shortage of workouts and pieces of equipment to choose from. You can go down the 'traditional' path with treadmills, cross trainers and rowing machines, or you can always opt for bodyweight exercises or going for a run outside. Or you can get the best of both worlds with a set of battle ropes.
No doubt you'll have a set of battle ropes at your gym, although you may not have seen anyone actually use before them. But that doesn't mean they won't give you a grueling workout. This Canstar Blue guide outlines why you should pick up the ropes and where you can get a set for yourself.
But first, what are battle ropes?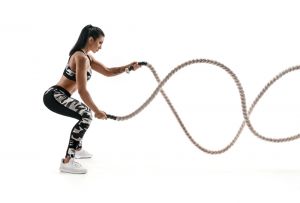 Battle ropes are a piece of exercise equipment essentially consisting of heavy ropes. Although instead of lashing ships together – or whatever else people use ropes for nowadays – battle ropes are used to work (primarily) your upper body, while giving you a cardio workout at the same time – making it a 'battle' to get through. Hence the name.
What muscles do battle ropes target?
Battle ropes primarily work your upper body, particularly your arms, chest, shoulders and back, while also engaging your core and leg muscles, depending on your own workout routine. Battle ropes also individually work each arm, meaning you'll be able to work on any imbalances you may have. That's what gives it the edge over other exercise equipment.
What to consider when buying battle ropes?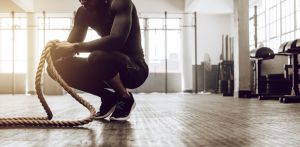 While you may be forgiven for thinking that all battle ropes are built the same (rope is rope, right?), there are actually a number of different types of battle ropes, with material, length and thickness all playing a part in how effective your workout will be. To help you find the best rope for the job, here are a few areas to consider before buying:
Thickness: thicker ropes carry more weight to them, meaning you'll be working harder to move the rope, and will often be used for workouts aimed at increasing muscle mass. Additionally, thicker ropes generally require larger hands to grip, so those with a stronger grip strength tend to get the most benefit out of them. Beginners and those wanting to work on their grip strength may want to start out with thinner ropes first.
Length: battle ropes come in a variety of lengths, meaning you'll have to find something that not only fits your space, but your workout needs. Longer ropes help ensure your movements are more 'fluid', allowing you to keep proper technique and build momentum, while shorter ropes allow for sharper bursts, giving you a more intense workout.
Material: battle ropes are generally available in two materials – Poly Dacron (a synthetic blend of polypropylene and Dacron plastic fibres) or manila (primarily made from hemp). Poly Dacron will be more suitable for indoor workouts, as they don't shed fibres, so you won't have to clean up your house after using them.
Price: for battle ropes (and with about anything else), you generally get what you pay for. A cheap set might prove less of a dent in your budget, but may not go the distance and that's fine if you're only looking for a short-term solution. With that said, there's also no guarantee that more expensive battles ropes will stand the test of time either or give you a good workout. So, be sure to research into all of your options before you buy to find the best fit for your needs.
How much do battle ropes cost?
While the price will be dependent on the retailer and the type of rope you're buying, most battle ropes can be purchased from anywhere between $50 and $250.
Where can I buy battle ropes?
Battle ropes can be purchased from sporting good stores, fitness equipment retailers as well as directly from the brands themselves, giving you a few options to consider.

Battle rope workouts
Now that you've got your set of ropes picked out, here are a few workouts from fitness experts to put you through your paces.
Battle Ropes for Beginners
The first video comes from the boys at Criticalbench. It's a beginner's guide to how to approach battle ropes, the correct posture, and what you should be aware of when exercising with ropes for the first time. If you've never picked up a battle rope before, this may be a good starting point.
Fat-Blasting Battle Rope Workout
The next video is from Men's Health. It's showcases a full 10-minute workout for you to try and exposes you to the range of movements you can do with battle ropes, with the aim to get you sweating and burning fat.
Battle Rope Blitz Workout
If you're after a shorter – but still intense – workout, then this two-minute video from Michael Vazquez will put you through your paces, offering plenty of movements and variations to give you a full body workout.
Athletic Battle Rope Exercises
This final video is for the more adventurous, and potentially more experienced fitness enthusiasts, with multiple variations, additions and tweaks to traditional battle rope movements, working muscles that you forgot you had for strength and cardio fitness.
Are battle ropes worth buying?
While they may not be the first thing you think of when it comes to working up a sweat, battle ropes can be a useful addition to your home gym, particularly if you're looking to try something new, or you want to get a strength and cardio workout at the same time. While there's plenty to consider, there's enough to rope you into a new workout routine.

Picture credit: Rido/shutterstock.com, Romariolen/shutterstock.com, Jacob Lund/shutterstock.com, Rawpixel.com/shutterstock.com