The majority of Australian consumers favour cheap, generic non-prescription medicines over more expensive products, but the big name brands appear to be fighting back, a new Canstar Blue survey has found.
Of almost 3,000 adults surveyed, roughly two-thirds (63%) said they tend to buy cheap over-the-counter medicines rather than more expensive named brands. However, this number has dropped from 71% last year.
More than one in four (28%) respondents believe brand name medicines are more effective than cheaper alternatives – up from 27% in 2015. And the number of adults who 'trust' brand name medicines more than cheaper products has remained the same at 36%.
In addition, the number of respondents who agreed with the statement: "I'm aware that most cheap, generic brand medicines include the same ingredients as the big brands" remained the same at 92%.
"It appears to have been a bad year for brand name medicines with the makers of Nurofen found guilty of misleading consumers over its specific pain range of products. However, these findings show that a growing number of Australians are drawn to the more expensive brands when they seek to cure their ailments," said Head of Canstar Blue, Megan Doyle.
"The big brands generally market themselves as being able to cure pain quicker, so it's understandable that consumers are happy to pay extra for these products. If you're in pain, you're naturally going to be drawn to the products that promise the fastest relief."
The survey, conducted in July 2016, found that adults aged in their 50s and 18-29 year-olds are most likely to buy cheaper none-prescription medicines over named brands (68%). Those in their 60s (58%) and 70+ (56%) are least likely. Women (64%) are more likely to buy cheaper medicines than men (62%).
Around the country, the survey found little difference between consumers, but those in New South Wales were found to be least likely to favour cheaper alternatives (62% compared with 64% in most other states).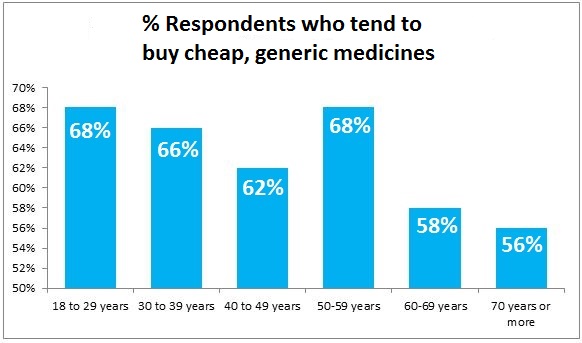 When it comes to perceptions around effectiveness, adults aged in their 30s are most likely to believe that brand name over-the-counter medicines are more effective than cheaper products (35%), while those in their 50s, 60s and 70s are least likely (24%).
Consumers in their 30s are also the most likely to trust brand name non-prescription medicines more than cheaper products (42%). The older age groups were again least likely, particularly those aged 70 and over (29%). There is no difference between men and women on both counts.
Survey respondents in South Australia (33%) and New South Wales (32%) are most likely to believe brand name medicines are more effective. Those in Western Australia (25%) are least likely.
Consumers in New South Wales and South Australia are also most likely to trust the named brands more than cheaper alternatives (40%). Those in Western Australia and Queensland are least likely (34%).
Pharmacies vs Supermarkets
The survey also found that the vast majority of Australian consumers prefer to buy over-the-counter medicines from pharmacies rather than supermarkets. This year, 83% of respondents said this was the case – up from 81% in 2015.
For adults aged 70 and over, the number rose to 90%, while those aged 18-29 are most likely to favour a supermarket, with 78% declaring a preference for the pharmacy. There was no difference between men and women.
About this research
Canstar Blue surveyed a total of 2,873 adults in July 2016 and 2,704 in June 2015. To take part in either survey, respondents must have made a purchase from a pharmacy in the previous six months.
This information is not medical advice, and Canstar Blue is not making a recommendation or giving advice about medications or health related products. Always seek the advice of a doctor or pharmacist to find the right medication for you.