Nothing ruins a Saturday afternoon browsing the aisles of your favourite electronics store like pushy sales staff, new Canstar Blue research shows.
One in five shoppers surveyed (21%) agreed that pushy sales staff are the most frustrating aspect of shopping at stores like Harvey Norman, JB Hi-Fi and The Good Guys.
The second most common gripe reported was the lack of sales staff (17%), revealing the fine line that in-store assistants must walk.
Canstar Blue surveyed almost 2,000 adults and found that other top frustrations included stores not stocking the desired items (15%), stores being overcrowded (10%) and a lack of knowledge from sales staff (10%).
"Good in-store customer service is so important at a time when consumers could easily go home and buy what they want online," said Canstar Blue Editor, Simon Downes. "Getting it right is clearly not easy, but the retailers need to be investing the time and effort into their staff on the front line to make sure they get it right more often than they get it wrong.
"Consumers continue to shop in-store because it can still be an enjoyable experience, and if they need to ask questions, they have help at hand. But if that service isn't up to scratch it's only too easy for shoppers to get out their smartphones and buy online instead."
The survey also revealed a lack of trust in sales staff, with just 51% of respondents declaring that they trust the advice of in-store experts over their own research.
Meanwhile two-thirds of shoppers (66%) said they try to negotiate lower prices when shopping in-store, while 37% admitted to 'showrooming' – looking in-store but then buying online.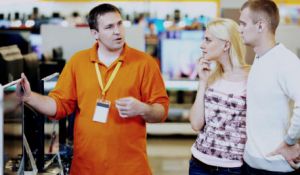 To approach, or not to approach
Not only did the Canstar Blue survey identify pushy sales staff as the number one annoyance for customers at electronics stores, but it also revealed that few consumers appreciate being approached as soon as they walk through the door.
Asked if, and when, they like sales staff to approach them, just 13% of survey respondents said they like to be approached as soon as they enter the store. The majority (68%) would like to be approached after having some time to look round the store, while the remaining 19% said they don't like being approached at all.
"Being able to read a customer, and a situation, is key to good customer service," added Mr Downes. "Approach someone too quickly and you risk annoying them, but hold off too long and you also risk annoying them! It's hard to win, which is why sales staff need to be able to judge the situation accurately more often than not."