Australia's top-rated childcare centres
Finding the best childcare provider for your son or daughter is about more than just location or price, though these factors are of course important. As paying customers, mums and dads are consumers as well as parents, so you'll want to make sure you're getting great value for money. This means finding a childcare centre with good facilities & equipment and a good educational program, while also allowing for flexible drop-off/pick-up hours. You'll also want your childcare provider to be a good communicator, keeping you updated on your child's activities and progress, as well as any other relevant news. There is a lot to think about, so where do you start? Canstar Blue's annual review of childcare centres is as good a place as any.
Each year, we survey parents right across the country to find out how they rate their childcare operator on important factors such as those mentioned above. This year, we recorded the opinions of more than 1,000 mums and dads who have a child that attends childcare in Australia. To be included in the ratings, childcare companies must have received a minimum of 30 responses. If your childcare provider has not been included, this will be why. However, seven of Australia's biggest childcare operators have featured in these results, providing a helpful insight into how parents rate them across all the key variables. While individual childcare centres will naturally differ, these ratings offer a high-level guide as to what you can expect to get for your money. So, what did we find?
KU Children's Services rated five stars across all survey categories – educational activities, facilities & equipment, flexibility (e.g. opening hours, meeting special requirements), communication with parents, value for money and overall satisfaction.
C&K, Goodstart Early Learning, Montessori and YMCA Childcare all rated four stars overall. The only five-star rating between the four went to Goodstart in terms of flexibility.
Guardian Early Learning and G8 Education both received three stars overall.
Nine out of ten parents surveyed (90%) said their childcare centre has a good reputation. Despite that, almost a third (31%) said they are considering changing childcare centres in the near future. The same number (31%) admitted their childcare centre was not their first choice.
Parents considering a switch gave a variety of reasons for wanting to do so, but the cost of childcare was the most common response (24%). However, the quality of staff (14%) and convenience (14%) were also high on the list of reasons.
How much does childcare cost?
Our 2017 survey found that Australian parents spend an average of $330 a fortnight on childcare. This figure includes children in part time and full time childcare. Mums and dads in NSW reported the highest average cost at $347, while those in South Australia reported the lowest at $295. However, the cost of childcare doesn't necessarily stop there, with 40% of parents paying for extra activities for their child, such as dance or sports classes.
Across the country, the cost of childcare is weighing heavy on many families, with 29% admitting they often struggle to pay childcare bills on time, while more than half of parents (51%) said that the cost of childcare is their household's greatest cause of financial stress. If you think you're paying too much for childcare, make sure you are getting all the financial support you are entitled to. There are two types of financial assistance available, which can be claimed directly through your childcare provider.
The childcare benefit is income-tested and helps to reduce the childcare fees you pay.
The childcare rebate can pay up to 50% of a family's out of pocket childcare expenses up to an annual cap. This is not income-tested.
Despite these Government benefits, the cost of childcare remains a major issue for many parents, with out-of-pocket costs generally increasing every year. This makes shopping around for the right childcare centre hugely important. You'll want a fair price, but you'll also want a childcare centre that provides a great educational program and top-notch facilities for your son or daughter to enjoy.
Picking a childcare centre
Not all parents are lucky enough to get their child into their first choice centre – some childcare centres have long waiting lists, while others may be out of reach financially. We asked respondents to our survey what the biggest deciding factor was in their choice of childcare centre and found:
In addition, 9% said their biggest deciding factor was knowing other parents with children at the centre, or their child having friends who already go there. A further 6% of parents said their current centre was their only option.
To help you decide which childcare centre might be best for your family's needs and preferences, here is an overview of the seven leading operators in our 2017 review.
Top childcare centres
KU Children's Services
KU Children's Services has more than 140 centres across NSW, the ACT, Victoria and Queensland. The company has a strong focus on education and says its philosophy supports the National Quality Framework, introduced to ensure consistent, high quality early childhood education. Using this framework, KU says its qualified educators provide a play-based program designed to be flexible, recognising that each child develops at their own pace. KU is a not for profit organisation and says its fees are designed to cover the operational costs of delivering its services, with any surplus reinvested into local staff and services. Some KU centres are located in converted old churches, while others are in new, purpose-built centres. KU rated five stars across all research categories in our 2017 survey.
C&K
The Crehe and Kindergarden Association (C&K) has dozens of childcare centres around Brisbane and SE Queensland. The company says its services provide a nurturing, engaging and stimulating education and care environment. It places high importance on its curriculum, its educators and its environments, with C&K boasting large, natural and sustainable outdoor facilities that are claimed to encourage children to learn through nature. C&K is a not for profit organisation and a Central Governing Body which manages and disperses funding to branch (owned by C&K), affiliate and associated services. C&K received a mix of four and three stars in our 2017 survey, including four stars overall.
Goodstart Early Learning
Arguably the biggest name in childcare in Australia, Goodstart Early Learning operates more than 600 centres across NSW, Victoria, Queensland, South Australia and Western Australia. The company insists that, no matter which centre you choose, you can feel confident that children are central to everything it does. Goodstart says your entire family will be treated with respect and care, with a vision of giving all children the best possible start in life. Goodstart Early Leaning is a not for profit social enterprise. It says it exists purely to improve the lives of Australian children and their families. Goodstart earned four stars overall and in most categories in our 2017 review, but scored five stars for flexibility.
Montessori
All Montessori childcare centres are independently owned and operated – not governed by Montessori Australia. There are dozens of Montessori-approved centres across the country, most notably in NSW, Victoria, Queensland, South Australia and Western Australia. The organisation says it works to support the natural development of children from birth through to maturity, while working to enable children to become the transforming elements of society, leading to a harmonious and peaceful world. Montessori childcare centre rated four stars overall in our 2017 review, while also recording four stars in most other research categories.
YMCA Childcare
The YMCA says that when you walk into one of its centres, you will immediately know that it is the right centre for your child. The group claims to offer educational programs that are creative, play-based and build confident learners. The YMCA focuses on its belief that children are natural learners and that each child develops at their own pace, with a program that is flexible, individual and engaging to children. The group also recognises that each child and their family has unique care needs and that it is well equipped to meet them. The YMCA rated four stars overall in our 2017 childcare review, with a mixture of three and four stars across other research categories.
G8 Education
With more than 100 childcare centres across the country – including dozens in regional parts of Victoria, NSW and Queensland – G8 Education claims to be a leading provider of quality care and education, with a range of well-respected and recognised brands. Childcare brands within the G8 group include Bambinos Childcare, Penguin Childcare, Pelican Childcare, Kindy Patch, Casa Bambini and Community Kids. With a strong focus on education, G8 Education says its goal is to be Australia's leading provider of high-quality developmental and educational childcare services. In our 2017 childcare review, it rated three stars for overall satisfaction and all other research categories.
Guardian Early Learning
The Guardian Early Learning Group operates dozens of childcare centres across NSW, Victoria, the ACT, South Australia and SE Queensland. The company claims its goal is to continue improving the quality of education and care that it provides to existing centres and to grow steadily by acquiring or opening new centres. In addition to its community centres, Guardian Early Learning also provides childcare services to local businesses seeking to provide company-sponsored childcare for their staff. Guardian claims six key values of passion, respect, excellence, partnership, recognition and team spirit. It scored three stars for overall satisfaction in our 2017 childcare review, with a mixture of three and four stars in other areas.
Which childcare centre should you go with?
If you live in a metropolitan area, you likely have plenty of childcare providers to consider. But if you live outside of our major cities, your choice is probably a bit more limited. While location and price are key factors to consider, it's also worth asking around the local area to find out what other parents think of their childcare centres. The childcare operators will always deliver a good sales pitch, so it's wise to seek plenty of opinions from paying parents before signing up. That's where our ratings are helpful because they reflect the real-world experiences of mums and dads across the country.
Childcare operators will happily show you around the centre before you sign up, but there is no harm in asking for a second visit if you're not sure. You should also go armed with lots of questions to ask so you're not left wondering later on. It would also be useful to speak with individual members of staff, especially if they're the ones who will be looking after your child. Spending an hour or two at the centre should give you a good insight into how it runs on a day to day basis, what staff members are like and the sorts of activities your child will be doing.
About the author of this page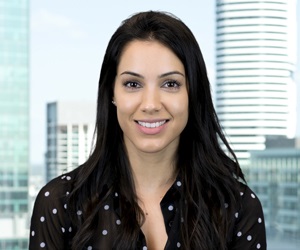 This report was written by Canstar Blue's Home & Lifestyle Content Lead, Megan Birot. She's an expert on household appliances, health & beauty products, as well as all things grocery and shopping. When she's not writing up our research-based ratings reports, Megan spends her time helping consumers make better purchase decisions, whether it's at the supermarket, other retailers, or online, highlighting the best deals and flagging anything you need to be aware of.