Two months on from the start of the single-use plastic bag 'ban', Coles is finally now enforcing its 15c reusable charge.
It comes as new Canstar Blue research shows there has been little change in consumer support for or against the supermarket bag ban since its introduction.
Canstar Blue surveyed just over 3,000 adults in June and again in August, and found that the number of consumers who agree with the decision to ban single-use plastic bags from supermarkets has remained the same at 71%.
The percentage of those who disagree with the decision has dropped marginally from 21% to 19%. Of those who are undecided, the number has risen slightly from 8% to 10%.
Coles removed the old single-use plastic bags from its entire store networks on July 1, while Woolworths enforced the ban ahead of Coles on June 22.
While both supermarkets initially offered shoppers their 15c 'slightly more durable' plastic bags for free, Coles extended its bag handout until August 29, allowing more time for consumers to adjust.
"Coles has always maintained that complimentary bags were an interim measure to help customers make the transition to reusable bags," a spokesman told News.com.au. "If customers forget to bring their own bags Coles has a range of options available including the 15 cent 'Better Bag' which is thicker and more durable than single-use plastic bags and can be used multiple times."
Consumers will now have to ensure they bring their own bags when shopping at Coles and Woolworths, otherwise they will have to purchase a reusable bag.
In Canstar Blue's latest survey, three in four respondents (74%) indicated that they remember to bring their own reusable bags more often than not.
Between the two surveys, there has been a notable drop in the number of those who say bringing their own bags to the supermarket every time is a hassle, decreasing from 45% to 38%.
In addition, just over a quarter of shoppers (27%) said they tend to buy less from supermarkets now because they know they have limited space in their own reusable bags, with 44% saying they often underestimate the number of bags they need.
Coles Reusable Bag Range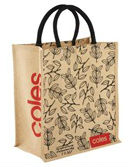 Coles offers a range of reusable bags for customers to purchase. This includes the 15c Better Bags, which are stated to be made from 80 percent recycled material and designed to be reused.
There are also bags designed by Australian schoolchildren, with each of these bags supporting one of the following community organisations – Guide Dogs, SecondBite, Little Athletics and Clean Up Australia.
$1 Tote Bags: 10c from every bag will be donated to Guide Dogs
$2 Shoulder Bags: 20c from every bag will be donated to SecondBite
$2.50 Chiller Bags: 25c from every bag will be donated to Little Athletics Australia
$3 Jute Bags: 30c from every bag will be donated to Clean Up Australia
Coles also offers its REDcycle program in all stores where customers can recycle bags and other soft plastics that cannot be recycled through most household kerbside recycling services. REDcycle recycling bins are located at the front of Coles stores, with plastic discarded in these bins stated to be recycled and converted into new products, including outdoor furniture.