It's the day many eager Coles Stikeez collectors have been waiting for – Coles has announced the date and venues for its much-anticipated Stikeez Swap Day.
To help you complete the full collection, a swap day will take place at selected Coles stores on Saturday 16 March between 10am and 2pm.
The Coles Stikeez promotion has proved hugely popular, first hitting stores on February 13.
For every $30 spent in Coles stores, online, or at Coles Express, shoppers can receive one Stikeez, with a total of 24 to collect. That means a total spend of at least $720 on groceries!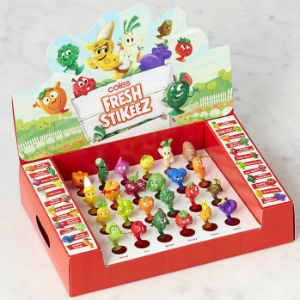 'Stikeez' are miniature characters of fruits and vegetables. They come with names like Ava the Apple, Cooper the Carrot, Callum the Capsicum and Eddie the Eggplant.
There are also five rare Stikeez including a see-through Brodie Broccoli, glow in the dark Carlo Cucumber, a sparkly Cooper Carrot, metallic Eddie Eggplant and a golden Billy Banana. The golden Banana is the most special of them all as you also score a Coles $100 voucher if you find one.
The latest collectables craze from Coles has been a hit on social media and Facebook swap groups are back in action.
If Coles' Little Shop swap days are anything to go by, the Stikeez events will be busy and collectors will be required to queue and swap just one Stikeez with a Coles representative per turn. However, you'll also be able to swap in-line.
"Bring your extra Stikeez to swap with fellow collectors," says Coles.
Coles Stikeez Swaps Days
The following Coles stores will host the Stikeez Swap Day on Saturday 16 March.
NSW
Coles Blacktown: Westpoint S/C, Patrick St, Blacktown, NSW 2148
Coles Campbelltown: Campelltown Mall S/C, 271-281 Queen St, Campbelltown, NSW 2560
Coles Erina: Erina Fair S/C, Terrigal Dve, Erina, NSW 2250
Coles Green Hills (East Maitland): Greenhills S/C, 1 Molly Morgan Drv, East Maitland, NSW 2323
Coles Lake Haven: Lakehaven S/C, Cnr Arizona rd & Goobarabah Ave, Gorokan, NSW 2263
Coles Lake Macquarie: 46 Wilsons Rd, Mount Hutton, NSW 2290
Coles Merrylands: 4 McFarlane St, Merrylands, NSW 2160
Coles Mt Druitt: Westfield Plaza, Cnr Carlisle Av & Luxford Rd, Mount Druitt, NSW 2770
Coles Pagewood (Eastgardens): Eastgardens S/C, Cnr Bunnerong Rd & Wentworth Ave, Pagewood, NSW 2036
Coles Warringah: Warringah Mall, 109A Old Pittwater Rd, Brookvale, NSW 2100
Queensland
Coles Aspley Hypermarket: 59 Albany Creek Rd, Aspley, QLD 4034
Coles Chermside: Westfield S/C, Cnr Gympie & Hamilton Rds, Chermside, QLD 4032
Coles Indooroopilly: 322 Moggill Road, Indooroopilly, QLD 4068
Coles Mackay (Mt Pleasant): Mt Pleasant S/C, Cnr Malcomson St & Mackay Bucasia Rd, Mackay, QLD 4741
Coles Maroochydore: Sunshine Plaza S/C, Plaza Parade, Maroochydore, QLD 4558
Coles Mt Gravatt (Garden City): Garden City S/C, Cnr Kessels & Logan Rds, Upper Mt Gravatt, QLD 4122
Coles Pacific Fair: Hooker Boulevard, Broadbeach, QLD 4218
Coles Robina: 19 Robina Town Centre Drv, Robina, QLD 4226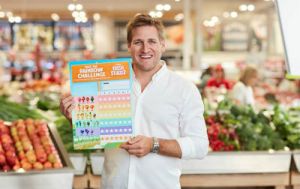 Victoria
Coles Airport West: Shop 1-M01, Matthews Ave, Airport West, VIC 3042
Coles Berwick Eden Rise: 95 O'Shea Rd, Berwick, VIC 3806
Coles Burwood: Cnr Burwood Hwy & Blackburn Rd, Burwood East, VIC 3151
Coles Chadstone: Chadstone S/C, Cnr Dandenong & Chadstone Rds, Chadstone, VIC 3148
Coles Fountain Gate: 352 Princess Hwy, Narre Warren, VIC 3805
Coles Greensborough: Greensborough Plaza, 25 Main St, Greensborough, VIC 3088
Coles Knox: Knox City S/C, Cnr Burwood Hwy & Stud Rd, Wantirna South, VIC 315
Coles Melton West: Cnr Western Fwy & Coburns Rd, Melton West, VIC 3337
Coles Roxburgh Park: 250 Somerton Road, Roxburgh Park, VIC 3064
Coles Southland: Westfield Southland, 1239 Nepean Hwy, Cheltenham, VIC 3192
Coles Waurn Ponds: 173-199 Pioneer Road, Waurn Ponds, VIC 3216
South Australia
Coles Churchill Centre: 390 Churchill Road, Islington, SA 5082
Coles Marion: Marion S/C, 297 Diagonal Rd, Oaklands Park, SA 5046
Coles Parabanks: 64-84 John Street, Salisbury, SA 5108
Coles St Agnes: St Agnes S/C, 1244 North East Rd, St Agnes, SA 5097
Western Australia
Coles Belmont Forum: 227 Belmont Avenue, Cloverdale, WA 6105
Coles Eaton Fair: 10 Council Drive, Eaton, WA 0493
Coles Ellenbrook: 11 Main Street, Ellenbrook, WA 6069
Coles Gateway: Shop M2, Lot 182 Beeliar Drive, Success, WA 6164
Coles Joondalup: Cnr Joondalup Drv & Collier Pass, Joondalup, WA 6027
Northern Territory
Coles Palmerston: Palmerston S/C, Cnr Temple & Chung Wah Tces, Palmerston, NT 830
ACT
Coles Belconnen: Cnr Emu Bank Drv & Benjamin Way, Belconnen, ACT 2617
Be sure to save the date to your calendar if you want to complete your Stikeez set. Unfortunately, Coles has not announced a Swap Day for Tasmania. Sorry folks.