Days after launching its latest edition of Little Shop collectables, Coles has revealed a new set of toys for Aussie parents.
Customers will be able to pick up a set of lamps and succulents with their roast chook this week, with the Coles 'Your Home Collection' selling items from just $5.
But the homewares range will only be available in Coles supermarkets until August 25, giving shoppers only four weeks to snap up the bargains.
Coles Chief Executive for Commercial and Express, Greg Davis, says its latest range aims to pay tribute to the company's origins 105 years ago.
"For more than a century Coles has been constantly evolving to meet customer needs, and we're committed to continuing that legacy of innovation," Mr Davis said.
"In July and August, the Your Home Collection will transform the Coles shopping experience, giving our customers the chance to pick up products that they will love in their home.
"We think customers are going to love the new homewares range, and it's another great example of how we are inspiring customers by offering them something that's not only great quality and value, but goes beyond what they expected when they walked into our store."
Coles' latest range of homewares bears an uncanny resemblance to ALDI's seasonal sales – the discount supermarket chain known for stocking everything but the kitchen sink in its stores. In fact, ALDI's latest round of Special Buys even included toilets, in addition to other bathroom essentials.
The Your Home Collection from Coles even takes aim at IKEA with the Round Wall Shelf, which retails for $25, and other items like the Felt Storage Box and Four Draw Timber Storage Box.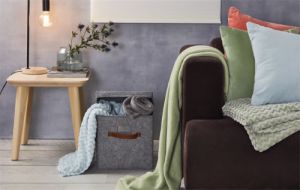 The Coles 'Your Home Collection' includes:
Succulent in Glass Pot: $5
Decorative Ceramic and Wood Canister: $6
Mahala Jar (ceramic pot with lid and leather handle): $6
Felt Storage Box: $10
Four Draw Timber Storage Box: $12
Velvet Cushion: $13
Timber Photo Frame: $15
Plush Throw: $15
Maya Table Top Lamp: $25
Round Wall Shelf: $25