Australia's biggest electronics retailers are in fierce competition to win hearts and minds, as research shows the importance of good customer service.
Consumer research company Canstar Blue surveyed more than 1,600 shoppers across the country and found point of sale service to be the greatest driver of satisfaction at electronics stores.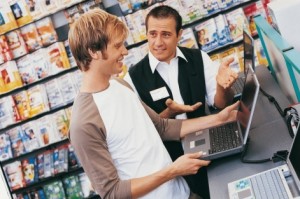 Electronics retailers – drivers of satisfaction
Point of sale service 27%
Price compared to other retailers 24%
Value for money 23%
Store layout 13%
Range of products 8%
It comes at a time when online retail spending has grown to $17.3 billion in the year to June 2015, equivalent to some 7.1% of traditional retail spending, according to National Australia Bank's (NAB) Online Retail Sales Index. It has taken the overall year-on-year growth rate to 10%.
Head of Canstar Blue, Megan Doyle, said consumers will vote with their feet if they don't get great customer service in-store.
"Consumers still enjoy the benefits of face-to-face shopping, but store-front retailers need to be constantly on their toes, otherwise people will head to another store or go home to buy online, where competition is even fiercer. It's never been more important for the retailers to get their customer service absolutely spot-on," said Mrs Doyle.
"If they're spending hundreds or thousands of dollars on a new item, people want guidance from the experts and assurance that they're making the best purchase decision for their needs. You can't replicate that sort of customer service with a pop-up window on a website."
She added: "Consumers want a great shopping experience. That means a wide range of products, good store layout and reasonable prices. But most of all they want outstanding customer service. People will remember good service long after they forget how much they paid for something. And if they're not getting that in-store, they might not come back."
How to pay less for new electronics
The Canstar Blue survey, of adults who have made a purchase from an electronics retailer in the last six months, also identified the in-store frustrations that put customers off returning. Top of the list of grievances was a lack of sales staff.
Electronics retailers – in-store frustrations
A lack of sales staff to assist 26%
Not having the items wanted 25%
Long queues to pay at checkouts 17%
A lack of knowledge from sales staff 15%
The store being overcrowded 11%
"The only thing worse than bad customer service is no service at all," said Mrs Doyle. "People can overlook a lot of things if they get a good product at a great price, but they want to be treated as a valued customer and that includes having staff available to help."
Electronics retailers – the best rated
Respondents to the Canstar Blue survey were asked to rate the electronics retailer they most recently visited across a range of research criteria, including price and service. And for the fifth year in a row, The Good Guys was the only one to receive a five-star rating for overall customer satisfaction.
"The Good Guys is clearly a firm favourite with Aussie consumers," said Mrs Doyle. "Few brands have enjoyed the same consistent level of success, so it really is a fantastic achievement."
What are The Good Guys getting right?
The Good Guys CEO, Michael Ford, said: "We are thrilled and humbled to be recognised by the people most important to us, our customers, for this award for a fifth straight year as it validates our approach of putting our customers first at all touch points.
"We recognised a number of years ago the need to build a connected retail experience, based on customer insights, due to the emergence of the digitally empowered consumer whose path to purchase has changed. As a result we built a capability and culture at The Good Guys that puts the customer front and centre, both in-store and online, and subsequently implemented a customer engagement model that focuses on building a deeper relationship with the customer.
"While most of our customers start their shopping journey online, the majority are still coming into a store to make their purchase so delivering great customer service in-store is remains paramount to customer satisfaction."