Yes, the rumours are true – you can get free fries from Deliveroo. But naturally, there's a catch or two!
Starting today (Friday, 12 July), Deliveroo will be offering free fries with any purchase from participating stores through the Deliveroo app or its website.
Just because it can? Well, because it's International Fry Day on Saturday…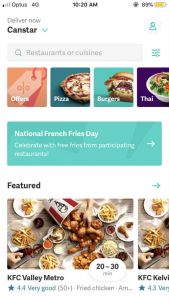 Described as "Australia's biggest chip giveaway", the food delivery service is teaming up with hundreds of restaurants across the country who are expecting to see an increase in fries consumption by over 80 per cent, according to Deliveroo.
But you'll have to get in quick as this deal is only available until tomorrow (Saturday, July 13), which is the official International Fry Day, or until stocks last.
There are more than 150 restaurants nationwide participating, with the list of stores covering Brisbane, Canberra, Geelong, Gold Coast, Melbourne, Newcastle, Perth and Sydney.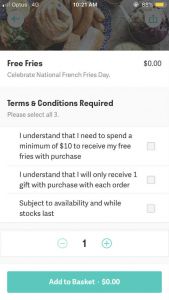 So, what's the catch?
Customers are required to complete their order with a participating restaurant to get the free fries. However, delivery fees still apply, plus you're only entitled to one serving per order, and need to spend a minimum of $10.
A Deliveroo spokesperson told 7NEWS.com.au that they want all Australians to have a 'fun weekend, with fries'.
"Our French Fries giveaway is Deliveroo's biggest ever free food offer," the spokesperson said.
"Chipping in for a free portion of fries is the least we could do to help our customers celebrate across the weekend, we just hope they only have fries for Roo."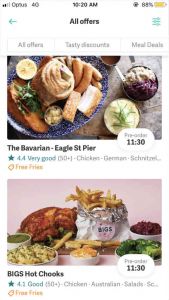 Get free fries from these restaurants
Participating Stores in NSW
Banh Meats and Co. – Barangaroo, Sydney
Banh You Vietnamese – Sydney
Bavarian – Chatswood, Sydney
Bavarian – Penrith, Sydney
Bavarian – Entertainment Quarter, Sydney
Beerhaus – York St, Sydney
The Bavarian – Manly, Sydney
The Bavarian – World Square, Sydney
The Bavarian Beerhaus – York St, Sydney
The Bavarian Castle Hill, Sydney
The Bavarian Charlestown, Newcastle
The Bavarian Maroochydore, Sydney
The Bavarian Miranda, Sydney
The Bavarian Rouse Hill, Sydney
The Bavarian Wetherill Park, Sydney
Zest – Sydney
Zeus Street Greek – Broadway, Sydney
Zeus Street Greek – Drummoyne, Sydney
Zeus Street Greek – Dulwich Hill, Sydney
Zeus Street Greek – Kotara, Sydney
Zeus Street Greek – Rosebery, Sydney
Zeus Street Greek – Northpoint, Sydney
Zeus Street Greek – Surry Hills, Sydney
Zeus Street Greek – Westfield Sydney, CBD
Tella Balls Liverpool, Sydney
Sandbar Cafe, Sydney
Ogalo Darlinghurst, Sydney
Little Italy Pizza, Sydney
BIGS Hot Chooks – Bondi Beach
BIGS Hot Chooks – Chatswood
BIGS Hot Chooks – Miranda
BIGS Hot Chooks – Penrith
BIGS Hot Chooks – Rouse Hill
BIGS Hot Chooks – Castle Hill
BIGS Hot Chooks – Charlestown
BIGS Hot Chooks – George St
Bootsdarling – Sydney
Bread N More Bakery, Sydney
Burger Project – Black Label, Sydney
Burger Project – Gateway, Sydney
Burger Project – Macquarie Park, Sydney
Burger Project – MLC, Sydney
Burger Project – Parramatta, Sydney
Caminetto Italian – Sydney
Kebab House – Sydney
Degani – Zetland, Sydney
Famous Fish – Sydney
Fratelli Fresh – Alexandria, Alexandria
Fratelli Fresh – Bridge Street, Sydney
Fratelli Fresh – Darling Drive, Sydney
Fratelli Fresh – Crows Nest, Crowsnest
Fratelli Fresh – EQ, Moore Park & Centennial Park
Fratelli Fresh – Macquarie St, Sydney
Fratelli Fresh – Potts Point, Potts Point
Fratelli Fresh – Walsh Bay, Dawes Point
Fratelli Fresh – Westfield, Sydney
Munich Brauhaus The Rocks, Sydney
Oricco Charcoal Chicken, Sydney
Secolo Dining, Sydney
Sindbad Kebabs, Sydney
Spit Roast Shop Milsons Point, Sydney
Participating Stores in QLD
42Fifteen, Gold Coast
Bavarian – Broadbeach, Brisbane
Bavarian – Eagle St Pier, Brisbane
Big Roddy's Up Late – Burgers & Wings, Brisbane
BIGS Hot Chooks – Broadbeach
BIGS Hot Chooks – CBD
BIGS Hot Chooks – Chermside
BIGS Hot Chooks – Southbank
BIGS Hot Chooks – Maroochydore
Big Roddy's Rippin Rib Shack, Brisbane
Burger Project – Brisbane CBD
Hog's Breath – Garden City, Brisbane
Hog's Breath – Geelong
Hog's Breath – Ipswich, Brisbane
Hog's Breath – Ipswich, Brisbane
Hog's Breath – Main Beach, Gold Coast
Hog's Breath – Surfers Paradise, Gold Coast
Hog's Breath – Victoria Point, Brisbane
Origin Kebabs – Qut Brisbane, Brisbane
Origin Kebabs Burgers n More-Labrador, Gold Coast
Origin Kebabs Burnada, Brisbane
Origin Kebabs Carindale, Brisbane
Origin Kebabs Chermside, Brisbane
Origin Kebabs Garden City, Brisbane
Origin Kebabs Hyperdome, Brisbane
Lord of the Wings – Carindale, Brisbane
Lord of the Wings – Indooroopilly, Gold Coast
Lord of the Wings – Robina, Brisbane
Kai Kai Chicken, Brisbane
Munich Brauhaus Southbank, Brisbane
Finn McCools Surfers Paradise, Gold Coast
Hog's Breath – Carindale, Brisbane
Seoul Bistro, Brisbane
Speedy Pizza, Gold Coast
The Bavarian Chermside, Brisbane
The Thai Heritage, Brisbane
The Yiros Shop – Cannon Hill, Brisbane
The Yiros Shop – Capalaba, Brisbane
The Yiros Shop – Fortitude Valley, Brisbane
The Yiros Shop – Newmarket, Brisbane
The Yiros Shop – South Brisbane
West End Burgers & Bites, Brisbane
Zeus Street Greek – Chermside, Brisbane
Zeus Street Greek – Harbour Town, Gold Coast
Zeus Street Greek – Robina, Gold Coast
Zeus Street Greek – Southbank, Brisbane
Participating Stores in Victoria
Bavarian – Highpoint, Melbourne
Bay Beach Pizza and Pasta – Melbourne
Bell Pizza – Braybrook, Melbourne
Burger Project – CBD, Melbourne
Burger Project – Chadstone, Melbourne
Burger Project – St Collins, Melbourne
Buoy Pizza – Melbourne
Burger Basement – Melbourne
Burger Project – Melbourne Central, Melbourne
Cafe Oliveto – Melbourne
Cafe Oliveto Pizza & Pasta Restaurant – Melbourne
Capricho Grill – Melbourne
Coffee Addiction – Melbourne
Crazy Kebabs – Keilor Downs (Core), Melbourne
Crisp Pizza – Melbourne
Editions Collingwood – Bao Wow, Melbourne
Editions Collingwood – Mr & Mrs Gan Chinese Kitchen, Melbourne
Editions Collingwood – Nem n' Nem Vietnamese Kitchen, Melbourne
Jay Burger, Melbourne
Jimmy Grants – Eastland, Melbourne
Jimmy Grants – Emporium, Melbourne
Jimmy Grants – Fitzroy, Melbourne
Jimmy Grants – Ormond, Melbourne
Jimmy Grants – Richmond, Melbourne
Jimmy Grants – St Kilda, Melbourne
Mary And A Little Lamb – Brunswick, Melbourne
Mary And A Little Lamb – Preston, Melbourne
Michel's Patisserie Brandon Park, Melbourne
Munich Brauhaus Melbourne
Port of India, Melbourne
Saint Charles Souvlaki & Burgers, Melbourne
Taco Bill Blackburn, Melbourne
Tarantino's Pizzeria Italian, Melbourne
Zeus Street Greek – Moonee Ponds, Melbourne
GalyaN Kebabs – Bentleigh, Melbourne
Gourmet Burger Kitchen, Melbourne
Hektik Kebabs, Melbourne
Hemp Kitchen, Melbourne
Crisp Pizza (Basic), Melbourne Crown
Florentine Pizza and Charcoal Chicken, Melbourne
Fratelli Fresh – Melbourne, Melbourne CDB
Hog's Breath – Chadstone, Melbourne
Olive's Pizza, Melbourne
Omega 3 Fish & Chips, Melbourne
La Cabra, Melbourne
TCS Burgers, Melbourne
Participating Stores in WA
Subway Warwick WA, Perth
Supremo Kebabs, Perth
Bao Burgers & Japanese Curry by Sixty Grams, Perth
Burgers & Wraps (Mondo Fresco), Perth
Chuan Yue Garden Chinese Restaurant, Perth
Crystal Palace Chinese Restaurant, Perth
Curry Kreations Indian Restaurant and Cafe, Perth
Eureka Fish & Chips, Perth
Tasty Kebab Subiaco, Perth
The Yellow Bourbon, Perth
TYB Pasta's, Perth
John's Fish and Chips Perth, Perth
Newroz Kebabs – Malaga, Perth
Zeus Street Greek – Albany Highway, Perth
Participating Stores in ACT
Zeus Street Greek – Canberra, Canberra
Picture credits: Fischer Food Design/shutterstock.com