If you've ever thought the potholes are bad in your town, a famous pizza chain could be on the way to fix them…
In the United States, Domino's has taken to fixing potholes in several counties on the roads it delivers pizzas on – a responsibility usually left to local councils and state governments.
Labelled 'Paving for Pizza', Domino's created the program to address the issue of potholes damaging its delivery vehicles – and its pizzas!
The Domino's US site features a video showing what happens to a pizza when it is transported over rough roads. The results are not pretty…
US residents can nominate their pothole-ridden postcodes for future improvements.
Current jurisdictions already touched by the 'Paving for Pizza' program includes Burbank, north of Los Angeles, where Universal Studios and many other TV and film studios are located. Bartonville in Texas, Milford in Delaware, and Athens in Georgia are also subjects of the program.
"This unique, innovative partnership allowed the town of Bartonville to accomplish more potholes repairs," Bartonville Mayor Bill Scherer said.
A city manager in Milford said: "We appreciated the extra paving for pizza funds to stretch our street repair budget as we addressed more potholes than usual."
As for the benefit of Domino's in doing this, the pizza chain has spray-painted over fixed potholes with the slogan 'Oh yes we did' with the Domino's logo (pictured).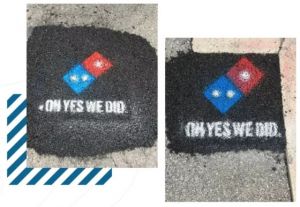 The chain also said that rough roads can lead to pizza calamity, resulting in toppings sliding off, flipped boxes, uneven topping and a generally poorer customer experience.
In the US, unsatisfactory delivery could result in delivery drivers receiving fewer tips.
In Burbank, at the time of writing, five potholes have been fixed, one road has been repaired, with a full day's work commenced, employing five crewmembers.
The news comes after the US chain announced customers can now order pizza by Tweeting at them.
Dominos is filling in potholes across America to save your carryout pizza https://t.co/TI0qMkA1JZ pic.twitter.com/E1kfsxawWC

— UPROXX (@UPROXX) June 11, 2018
Could Domino's pizza pothole fixing come to Australia?
There is no word yet if Domino's will bring its innovative pothole-fixing business to Australia. Being that Domino's US and Domino's Australia are completely separate entities, it does seem unlikely. But such a bizarre occurrence can't be counted-out.
Australia does not feature such weather extremes that many states in the US face, where roads are iced over for months at a time, along with road-salting.
In Australia, Domino's was recently ranked in the top five most popular fast food chains. McDonald's and KFC took out the number one and two spots, respectively.
Not all headlines have not been kind to Domino's recently however, with the pizza chain scoring just 3/100 in a fast food health audit.