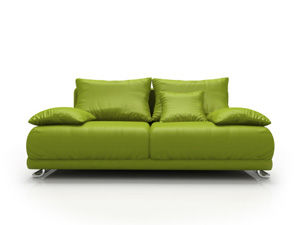 There are few people unaware of the popularity organic products are gaining, from food, to fashion, to shampoos and moisturisers the eco-revolution is quickly gaining momentum. In line with the trend, 37% of respondents to a recent Canstar Blue survey said they seek out furniture that makes use of environmentally sustainable materials. This prompts the question – what is environmentally sustainable furniture?
Furnishing your home with eco-friendly furniture isn't quite as simple as making the decision to purchase an organic chicken. Environmentally sustainable furniture consists of pieces that:
are created from:

organic fabrics and fills
certified ecologically harvested wood
bamboo

use:

non-toxic finishes
fair trade materials and labour
local materials

are:

artisan crafted
reclaimed finds
made locally
Source: Gaiam
Essentially, this means that you can consider a piece of furniture an environmentally sustainable find not only if it's created from environmentally sustainable materials, but also if it's an antique or vintage piece you are able to give new life to. Old furniture is more suited to your lounge room than to landfill!
If you consider yourself an extreme "eco-warrior" you can always make your own furniture. This will allow you to ensure all the materials and finishes are environmentally sustainable, but will also give you a great sense of achievement and some serious satisfaction.

Have you ever attempted to create a piece of furniture?