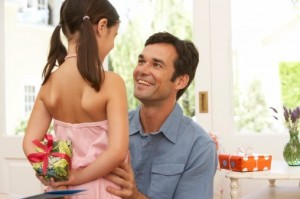 While some of us know months in advance what we'll give a special person on their special day, others will have no idea what to buy and end up shopping in a frenzied panic.
So rather than having a last-minute freak out this Father's Day, consult our handy guide of gift ideas from an electronics store for some inspiration.
For the healthy dad:
George Foreman Mix and Go 600ml Blender
If your dad is a kitchen whiz, or just likes making drinks, this is the present for him. He can enjoy a fresh smoothie or a fluffy milkshake whenever he wants, without the hassle of that massive blender you have somewhere in the back of your kitchen cupboard.
With its powerful motor and strong blades, this 600ml mini blender is functional and time saving, powering through ice and dense foods in seconds. Let dad liquefy any food he wants with the George Foreman Mix and Go blender.
Fitbit Flex Wireless Activity Wristband
Because fitness is more than just exercise, get your healthy dad a Fitbit to track his activity throughout the day and night (it checks sleep too – he needs to be getting enough).
Dad's new Fitbit will record and keep lots of data to keep him on track to reaching his health and fitness goals. Fitbit data gives a great insight into healthy habits – and the not so healthy ones – and keeps them all on the handy app, so dad can access his fitness information anytime and anywhere.
For the musical dad:
Yep, turntables are trendy again, and you know dad has been dying to dig out all of his old records. Spend Father's Day bathing in nostalgia, listening to hits from dad's teen years – whether its 50s rock and roll, 60s pop, 70s prog-rock, or 80s hair metal, jam with dad listening to his carefully curated library of only the best songs of his day.
Beats by Dr. Dre – Solo2 On-ear headphones
These babies are describes as the luxury sports car of the headphone world, so treat dad with the dynamic sounds from Solo2 this Father's Day. Not only do they sound good, but they look good. Solo2 is made from only the best material and is built to have no visible screws.
On top of that, they are durable and also convenient. When dad wants the pack them up and take them on a trip, these headphones fold up, ready to go anywhere. For the best music experience, get dad a pair of Beats Solo2 – he will love the ultimate comfort and premium sound quality.
For the gadget-loving dad:
Parrot MiniDrone Rolling Spider
Nothing says 'best dad ever' like giving him a drone this Father's Day. The Parrot MiniDrone is smartphone controlled and can be used both indoors and outdoors.
It doesn't just fly either, this particular drone has wheels, so it can go virtually anywhere. And with an on-board camera, dad can take some great pictures from his drone. (Let's just hope he doesn't fly it to the neighbours' window!)
Who needs a regular watch, when you can go one better and get dad a smartwatch! The Moto 360 is the android powered smartwatch that you may not have heard of; cheaper and just as functional, this is the ultimate fathers' day gift.
Your tech-mad dad can keep up to date with his busy schedule simply by looking at his wrist. The Moto 360 can organise his life, predicts what he might need, and makes life that little bit easier for the electronics enthusiast on the go.