Being given (or growing) flowers is something that most people appreciate. But have you ever wondered what that lovely bouquet of hydrangeas means? In that instance you might be surprised to learn that hydrangeas can represent heartlessness and frigidity. Red roses, on the other hand, are true love; perhaps a better choice…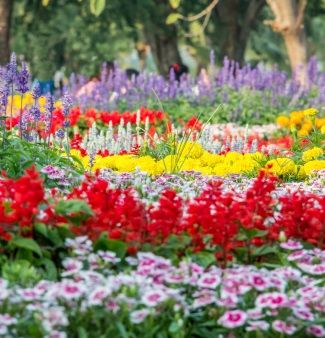 Here's a quick rundown on some popular floral options:
Apple Blossom – Can mean delightful, giddy happiness and joy.
Azalea – This delicate flower can represent both abundance and fragility, perhaps interpreted as the joy of first love.
Baby's Breath – As the name of the flower hints, these blossoms represent innocence and purity of heart.
Carnation – A very popular bloom, carnations can, according to some websites, symbolize the enduring love of a mother. Other website counter that it's just pink carnations that mean maternal love; other colours can have many and varied undertones of meaning – such as yellow ones, which apparently symbolize disdain and rejections. Perhaps not so good for Mother's Day!
Daffodil – As well as being the symbol for the Cancer Council's Daffodil Day, the cheerful yellow flower also symbolizes joy, jubilation and new beginnings.
Daisy – Who doesn't like daisies? Perhaps that's why they represent happiness and laughter. They are also, of course, often used for the schoolyard: "(s)he loves me, (s)he loves me not" test.
Forget-Me-Not – Really, this one is quite self-evident.
Geranium – Geraniums are for comfort – although one website did suggest that they represent stupidity and folly. Perhaps the saying: "ignorance is bliss" holds true…
Hibiscus – Means delicate beauty. The flowers themselves are beautifully delicate, of course, so a small hibiscus tree may be a better gift than just the flowers themselves.
Iris – A beautiful and string flower, Iris encompass a number of meanings including faith, hope and wisdom. Check out some of these images.
Jasmine – The beautiful scent of jasmine is in keeping with its meaning, which is grace and elegance.
Lavender – The scent of lavender is widely used in cupboards and drawers around the country. It's also a popular essential oil.
Lily – Representing chastity and virtue, be aware that lilies are often used in funerals.
Magnolia – Magnolias represent dignity, perhaps symbolized best in the movie "Steel Magnolias".
Orchid – Orchids, as their delicate beauty suggests, mean all sorts of good things such as beauty, strength and love.
Rose – Aahh, the favourite of romantics everywhere. While roses are, overall, a symbol of love, different colours denote different types of love. Red, of course, is for passion, while yellow is friendship and pink is gratitude. White is apology or sympathy. For those lucky June babies, it is also their birth flower.
Sunflower – The bold, brassy sunflower represents adoration.
Tulip – A beautiful bouquet of tulips is the appropriate gift for an 11th wedding anniversary. If you need to make an apology, white tulips could be the best offering. Yellow tulips are for happiness and red are for perfect love.
There are many other flowers and many other meanings; these are simply some of the most common. And if you really want to confuse the recipient, of course, you could provide a large bouquet containing a little bit of everything…
To see which Online Flower Delivery retailer keeps its customers the most satisfied, see our ratings.