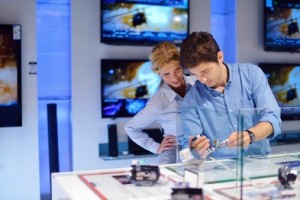 For many Aussies, a weekend wouldn't be complete without a visit to their favourite electronics store. Even if they don't intend on buying anything, it's good to keep up-to-date with the latest innovations in home appliances and tech gadgets. But if you do plan on treating yourself, here are some fun things you could buy.
Action Cameras
Just a camera? No way! Action cameras are far more durable and are able to withstand almost any conditions.
Take a happy snap anywhere at any time; whether you are in the ocean, crowd surfing at a festival, or going on a hike with the family, an action camera will capture your favourite moments as they happen.
Keep having fun while also capturing the moment forever and never stop for a photo again. Put it on your bike, surfboard, car, skateboard, snowboard, or your dog's collar; strap it to your head or even on the family guinea pig to capture some great images and videos to share later on.
Musical Instruments/DJ Equipment
With so many electronic retailers selling affordable equipment, anyone can be a musician or a DJ now.
Impress your friends and get the next barbecue pumping by putting your own spin on your favourite songs, or getting funky by making your own hit tracks.
Electronic instruments, as well as acoustic guitars, ukuleles and drum sets can be found in most electronic stores.
Activity Tracker
If you exclude bikram yoga, an activity tracker is the hottest fitness trend around at the moment.
They are a great piece of kit to have when it comes to getting fit; this little wristband gives all the information you need about how healthy you are and how much your fitness is progressing.
Have a fun time getting off the couch and outside, while working towards a healthier you.
Robot Vacuums
Now, you may not always associate vacuuming with fun, but you will now because… you won't have to do it anymore!
Go out and have a good time while your little robot friend cleans the floors; or sit in front of the TV and watch it do its thing.
Have a cat? Sit it on top of the robot vacuum and prepare to be entertained – see here for reference. Now who said vacuuming wasn't fun?
Drones
They are the cooler, next-level counterpart to a remote controlled helicopter, and are also the latest trend for tech geeks and photographers alike.
They can be used for all sorts of things, but mostly they are used to create amazing images from great heights, or to smoothly follow action while shooting video.
Attaching an action camera is generally the done way of using a drone, as the cameras are all terrain and durable in the case of a drone falling from the sky.
There are heaps of modifications that can be made to drones, and some electronics enthusiasts love to build on them, or even build their own.
You'll find all of the above fun gadgets at one of the electronic retailers that featured in our latest customer satisfaction ratings.