While great customer service is an important consideration for many shoppers, one in four Australians get advice on electronics in store, but then return home to buy the product online at a cheaper price. And that's not all we found in these results. We invite you to think about what you consider to be more important, as we delve into what Australians consider when putting forward their hard earned cash to buy the latest and greatest gadgets.
Aussies shop online for the price…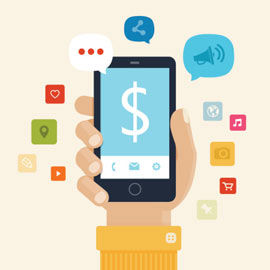 The above is just one of the findings from the Canstar Blue survey of more than 1,500 Australian adults, who have purchased an item from an electronics retailer in the last six months.
The study shows that Gen Y Aussies are three times more likely than Baby Boomers to research a product in store before looking for a bargain on the internet. And of those who admit to taking advantage of in-store advice before buying online, only one in three said they feel guilty for doing so.
That might not come as too much of a shock to many 'bricks and mortar' retailers, with the National Australia Bank reporting continued growth in online retail sales – now accounting for 6.6% of traditional retail spending.
…However, they shop in-store for the service
But what they might be pleasantly surprised to learn is that good customer service was of the utmost importance to those who took part in the Canstar Blue survey. In fact the collective view was that quality "point of sale service" was twice as important as the feeling of getting good value for money. The layout of the store itself was also crucial, as was the range of products on offer.
With Australian consumers craving quality customer service, a quarter of survey respondents said they will allow themselves to splurge on purchasing new electronic devices, but one in five claim to have bought "must-have" electronic gadgets and then never used them.
And more than a quarter of those questioned say they have electronic gadgets in their home that they regret buying because they are unnecessary.
That might be partly explained by the fact that one in five respondents claim they tend to buy more than one electrical item at a time so they can try to negotiate a lower price.
The survey also shows that 30% of Aussies spend more time reading catalogues from electronics retailers than they do reading books, while a quarter of respondents admitted to experiencing "electronics envy" when visiting friends and family.
Back to the shops they go then…
But which electronics retailers are truly excelling?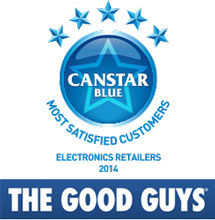 The Good Guys has received Canstar Blue's Most Satisfied Customers Award – Electronics Retailers for the fourth year in succession and Cathy Rennie Matos, The Good Guys Manager – Marketing Services, said good sales advice has always been a priority for the company.
"Since its inception as a family business back in 1952, the company has always maintained the philosophy that delivering strong customer service is essential for both business credibility and customer retention," she said.
"Receiving such widespread positive feedback regarding our customer service from Australian consumers is extremely humbling for our team, as it reinforces the hard work and serious commitment within the organisation to making The Good Guys not only a great place to shop but a great place to work."
"We know from experience that satisfied customers typically become loyal customers that are more likely to share their experience with family and friends. The Canstar Blue customer satisfaction survey provides an extremely reliable and representative way in which to help measure this."
We featured on Today Tonight, speaking about this very topic.