It's high in fat and added sugars but it's also intrinsically entwined with Easter!  And the good news is that the humble Easter egg can – provided you don't go overboard – be a guilt-free part of Easter.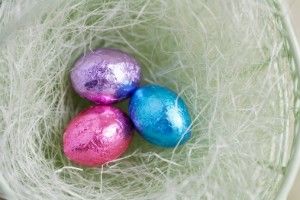 "Chocolate can fit into a healthy diet. Chocolate, especially dark chocolate, is a good source of beneficial antioxidants," says Spokesperson for the Dietitians Association of Australia, Kate Gudorf.
"Like all good things, serving size of chocolate is an important consideration.  A serving of chocolate is 25g, or roughly half of a small bar. By staying mindful of portion size, chocolate does not need to be a diet no-go."
With portion size an important consideration though, quality over quantity is perhaps the key this Easter. "Dark chocolate is a healthier alternative to dairy milk chocolate," says Ms Gudorf. "Dark chocolate has more antioxidants and generally, it has less sugar. Try to buy a good quality dark chocolate and savour every bite.  This may be far more enjoyable than a large quantity of lesser quality chocolate."
If you would prefer to avoid chocolate, there are plenty of healthy treats that you can eat over Easter. Lovely fresh fruit can provide a hit of natural sweetness, or your could make your own healthy hot cross buns using wholemeal flour, oats and sultanas and reduce the amount of sugar in the recipe.
"Easter doesn't have to be about sweets," says Ms Gudorf. "This Easter, request fresh flowers from your friends and family instead of sweets."
Be active!
And of course, the more active you are over the Easter long weekend, the more calories you can burn off. Some fun Easter-themed activities for the family could include:
An Easter egg hunt. Yes, it involves eating Easter eggs but at least you're compensating for them with activity! A long, involved and intensive treasure hunt, with plenty of clues and obstacle courses can be a great deal of fun.
Egg and spoon race. Want to eat that egg? Run for it!
Beach or backyard cricket. Really – who doesn't love a BBQ and games of backyard cricket over a long weekend?
Family bike ride/rollerblading/beach trip/picnic – really, anything to get the family moving.
Back to Easter eggs, a child's recommended intake varies by age and sex. "A young girl, up to age 18, could enjoy between one and three serves of "discretionary" foods per day, which includes chocolate," says Ms Gudorf. "A boy up to age 18 could enjoy between one and five serves per day.  A serving of chocolate is 25g or about two to three mini eggs."
So enjoy chocolate in moderation this Easter to maintain a healthy diet, throw in some fun activities and viola – an enjoyable, more guilt-free Easter long weekend.