With gyms closed and your local park likely not up to scratch (and potentially overcrowded), how can you keep your body goals on track while you're stuck in isolation? Whether you lived at the gym before COVID-19, or you've become bored enough at home to give working out a go, the answer is the same: the home gym.
While previously the realm of those who had good fitness intentions but maybe didn't keep at it, or the truly dedicated, the home gym is now worth its weight in gold. But what should you have in your home gym to help you walk out of isolation with the body of your dreams? Find out in this Canstar Blue guide.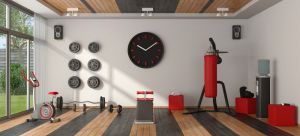 What should I have in my home gym?
There are plenty of pieces of equipment that you can buy and use in your home gym, but here are the top 20 home gym essentials you should have:
Treadmill
Cross trainers
Yoga mat
Rowing machine
Resistance bands
Free weights
Floor mats
Foam roller
Bench
Squat rack
Battle ropes
Stationary bike
Kettlebells
Pull up bars
Multi-gym machine
Skipping rope
Medicine balls
Boxing bag
Balance equipment
Whatever you have lying around your house
Home gym essentials

Treadmill
While you can always pound the pavement, running on a treadmill may be a safer option during isolation, plus it also allows you to watch TV at the same time (take that nature). Treadmills also allow you to adjust the speed and incline for a different type of workout, with some treadmills also compatible with apps and smartphones to give you readings of your heart rate and lap times, ideal for when you're looking to cut down on a PB.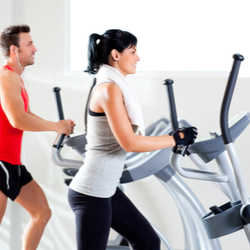 Cross trainer
Another piece of cardio equipment, a cross trainer, or elliptical, is a machine that helps to simulate running, walking or stair climbing movements to help you get a workout without actually going outside or up the stairs. You can choose from multiple types to find the workout you feel most comfortable doing; whether you want to focus on your legs or you're keen for a full body workout, a cross trainer may be a good fit in your home gym.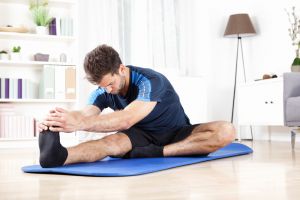 Yoga mat
Whether you're right into your yoga, or don't know your Hatha from your Bikram, a yoga mat is an essential as it gives you a nice, comfortable surface to do your workouts on, rather than the wooden floorboards of your living room, the hard concrete of your garage or the wet grass of your backyard. However, you get what you pay for when it comes to a yoga mat, as the more expensive ones will be made of more durable materials to keep pace with your workout, as well as give you a comfortable platform to get your head and body right.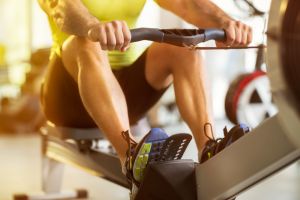 Rowing machine
A mainstay in any gym, the rowing machine is a full body workout in one machine, giving you a resistance and cardio workout at the same time. With multiple resistance settings and features to help you track your calorie burn and times, there are also different types of rowing machines to choose from to give you a different type of workout, or help you target specific areas of your rowing technique.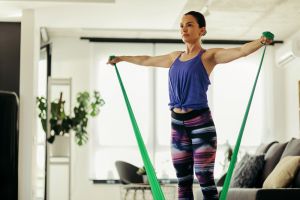 Resistance bands
Over recent years, resistance bands have become an essential for many athletes, bodybuilders and gym goers, giving you a tool that not only helps you to stretch out tight muscles, but give you a good workout through elastic energy and resistance. There are different types of resistance bands as well, with varying levels of elasticity and resistance, allowing you to choose multiple bands for whatever you're working out.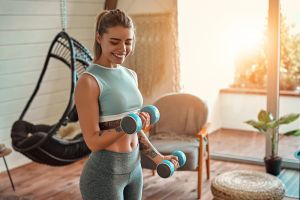 Free weights
When you think of working out, chances are you picture a set of dumbbells or weight plates. While your gym may have rows and rows to pick from, having your own set of dumbbells can make a big difference to your workout. You can purchase pairs, or you can go for the whole set and dumbbell rack if you're looking to put the 'gym' in home gym, but even just a single dumbbell can open plenty of possibilities for your workouts, making it arguably the most essential piece of equipment.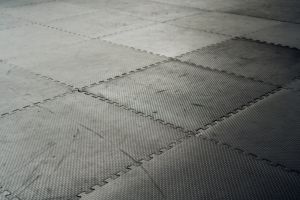 Floor mats
If you're looking to hit the weights but you're worried about damaging your floor, floor mats are an essential. Generally made of a mix of rubber and foam, floor mats give you extra comfort when you're working out, as well as protecting both your floor and weights (and your phone) if you accidently drop it. Most floor mats come in squares so you can buy as much or as little as you need, and simply slot into place, making them easy to dissemble and store when you're not using them.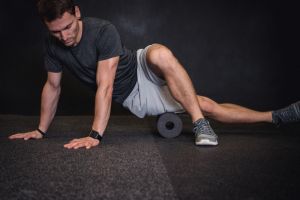 Foam roller
Recovery is as big a part of exercise as actually working out, with muscle soreness often used as an excuse to skip a workout. As a result, stretching and using a foam roller can cut down on soreness, as well as improve recovery, which can get you back into your exercise regime quicker. There are different types of foam rollers available, including handheld types and floor rollers, giving you a few options to choose from to suit your recovery needs.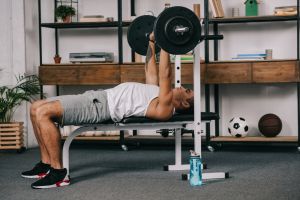 Bench
What's a gym without a bench? Arguably the king of all exercise equipment, the humble bench can be used for multiple types of workouts and exercises, and is a great place to rest in-between sets. While you can opt for a solid flat bench, you can also purchase an adjustable bench for incline and decline exercises, to give you more workout options.

Squat rack
While one of the more expensive options on this list, the squat rack is an essential for those wanting to come strutting out of isolation with some solid pins. Despite the name, the squat rack can also be used to work out other body parts, with most squat racks coming with adjustable safety racks to allow you to work on your bench press and some come with overhead handles to help with your pull up form, making the cost an easier pill to swallow.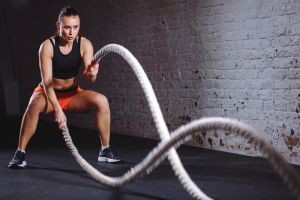 Battle ropes
While the name sounds intimidating, battle ropes are a middle ground between cardio and resistance, with plenty of movements and exercises available to do with them. Battle ropes also come in a variety of sizes and lengths, making it easier to find one that fits your needs as well as your garage. Plus, ropes come with grips to ensure you don't get any rope burn to go along with your muscle burn.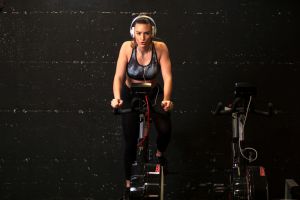 Exercise bike
Another big part of the gym scene, the stationary exercise bike can help you get some kilometres on the legs all from the comfort of your living room. There are also multiple types of stationary bikes available, including larger fan units, to the smaller, sprint-based bikes to help you feel the burn. Some models also coming with screens to help you keep track of your vitals and times and give you something to aim for the next time you hop on.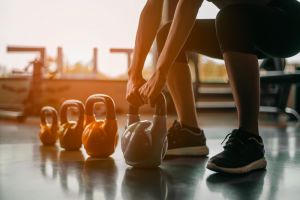 Kettlebells
Like dumbbells, kettlebells are a handy piece of equipment to have around your home gym, allowing you to focus on one set of muscles, or go for a full body workout. With multiple sizes, weights, materials and sets to choose from, you can use kettlebells for virtually any type of home workout you want to do, making them a versatile option in the gym.

Pull up bar
One of the originators in the home gym scene, the pull up bar can be put almost anywhere you have the space, making it an ideal addition to your home gym setup, provided you have the tools to secure it in place. Of course, you can always hang from the rafters, but most pull up bars are made from sturdier (and more comfortable) material, allowing you to focus on your muscles rather than your hands.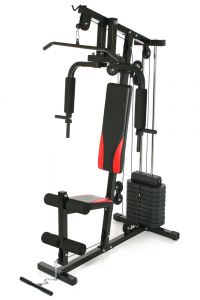 Multi-gym machine
A broad term, a multi-gym machine is traditionally a piece of equipment that has a variety of bars, weights and cables to do multiple exercises (hence the name). While a more expensive option to kit out your home gym with, a multi-gym does give you that real gym vibe and opens up plenty of exercises and work outs, making it a worthwhile option if you're not looking to take any days off during isolation.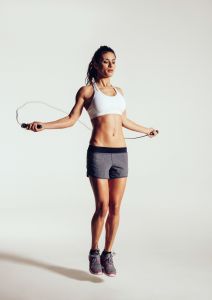 Skipping rope
One of the simplest pieces of exercise equipment, the humble skipping rope can really help with balance, coordination as well as cardiovascular fitness, and can be a good way to work up a sweat. While you can raid your cupboard for the old skipping rope you used back when you were a kid, you can always opt for a speed rope or weighted rope if you're looking to mix it up.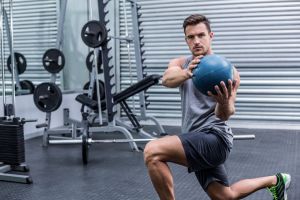 Medicine balls
Another versatile option, medicine balls can be used in a variety of workouts, with medicine balls coming in multiple sizes, weights and materials to make your workout as easy or as hard as you want it. Additionally, you can either buy just the one, or you can opt for a set of medicine balls to give you a bit of everything, making them ideal for multiple muscle groups and exercises.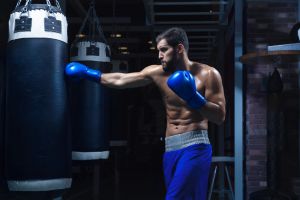 Boxing bag
Boxing has long been up there with one of the most gruelling sports and workouts you can do, with technique and fitness coming into play in equal measures. While it may not be an essential for some, a boxing bag (otherwise known as a punching bag) can help you work on your cardio fitness, as well as make home workouts fun if you're looking to try something different. Plus, you get to punch something and live out your own Rocky moments, which is always a bonus.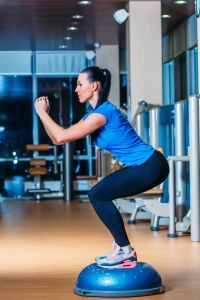 Balance equipment
While you may not think balancing falls under the 'exercise' category, balance actually plays a massive part in working out safely and keeping your body functioning properly. Balance equipment such as boards and discs allow you to strengthen your core muscles and improve coordination and body functionality, which can have both short term and long-term benefits. You barely raise a sweat, although it does take a lot of coordination.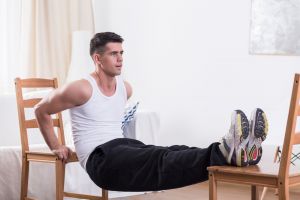 Whatever you have lying around your house
Working out doesn't always require a fully-equipped gym, with isolation showcasing just how resourceful some gym-junkies have been. Don't have any weights? Grab that 2L bottle of milk or that carton of beer you've been saving and get to it. Don't have any equipment? Use tables, chairs or railings to help you get a pump. Got some stairs? You've got yourself a cardio workout. Of course, you'll have to be careful when not using proper gym equipment for exercising, but with good technique and careful consideration, you can get a solid workout with a little imagination.
How much do home gyms cost?
Home gyms can cost as much or as little as you need them to, with your home gym ultimately a reflection of what you want it to be. You can source most equipment from multiple retailers such as sporting goods stores, specialised gym equipment stores and brands, or you can go down the second-hand route and keep an eye on buyer and seller markets for a bargain.
As with most industries though, the pieces of equipment with more features or functions will cost you a bit more than the more basic models, although a more basic model may be a better suit for your needs if you're only working out a few times a week, or you're only doing a few exercises. Of course, you don't have to buy all your equipment all at once, and can gradually build up your gym as time goes on, giving both your body and wallet time to recover.

Is a home gym necessary?
With uncertain times ahead, and no word on when gyms are likely to fully open back up to the public, investing in a home gym, or at least a few pieces of equipment, can help you get moving and stay in shape without leaving the house. As a bonus, you won't have to wait until the bench is free to get your workout done, and no one will judge you from flexing in the mirror. Home sweet home.

Picture credits: Carti5/shutterstock.com, archideaphoto/shutterstock.com, Sebastian Gauert/shutterstock.com, ORION PRODUCTION/shutterstock.com, Ljupco Smokovski/shutterstock.com, AePatt Journey/shutterstock.com, Goolia Photography/shutterstock.com, Lucky Business/shutterstock.com, LightField Studios/shutterstock.com, Dusan Petkovic/shutterstock.com, UfaBizPhoto/shutterstock.com, Zoran Pucarevic/shutterstock.com, Day Of Victory Studio/shutterstock.com, Paul Biryukov/shutterstock.com, Julian Rovagnati/shutterstock.com, Jacob Lund/shutterstock.com, wavebreakmedia/shutterstock.com, AboutLife/shutterstock.com, Satyrenko/shutterstock.com, Goran Bogicevic/shutterstock.com, Photographee.eu/shutterstock.com