Australia Post has won our 2015 and 2014 awards for courier service customer satisfaction. But did you know that transport and postal jobs are the number one most dangerous job in Australia?
National Media and Communications Manager at Australia Post, Michelle Skehan, said: "Our posties are exposed to a number of safety risks as they spend most of their working day on the road or footpaths, and some of the biggest risks include residents backing out of blind driveways and roundabouts. [Our] motorcycle training program has been designed to ensure that our motorcycle posties receive best-practice training and have the best chance of staying safe."
Australia Post requires its posties to undergo safety training biannually. But there are also things that you can do to make sure your postie gets your mail to you safe and sound.
Help your postie out
Look before you reverse
Australia Post says nearly half of the injuries to posties happen at the letterbox, or when cars are reversing out of driveways without looking. Those injuries can be deadly serious, so please, look before you reverse.
Keep the gate closed and train your dog not to attack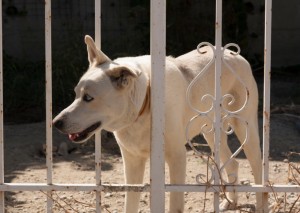 It might look pretty funny when you see it in cartoons as a kid, but posties getting harassed by dogs is no laughing matter. Keep the gate shut during the day, so your dog can't get out. Put up a "Beware of Dog" sign so posties know to keep a look out.
You can also train your dog not to attack the postie by giving your dog a treat for sitting quietly while the postie delivers the mail. One postie even carries Schmackos in his bag to bribe the guard dogs he encounters in his daily travels – and biscuits, for one nanny goat!
Keep the footpath clear
Posties legally belong on the footpath and so do cyclists and pedestrians – so make sure the path outside your home is completely clear of branches, wheelie bins, and your car.
Prune your garden
If your letterbox is enclosed in a shrub – especially if it has thorns or prickly leaves – you should keep that greenery pruned back as far as possible. Keep the area around the letterbox free of things like rocks or big roots, which can knock a postie off their bike.
Clean your letterbox out
Take out today's mail so tomorrow's mail will actually fit! Look for any rusty edges on your letterbox that might hurt you or your postie.
Gloves are no protection for poor posties if spiders and bugs crawl up them from inside your letterbox. But a dry, enclosed space like your letterbox is a favourite hiding spot for spiders and other bugs. So give your box a quick clean out once a week, and keep an eye out for cobwebs or ants.
Package your parcels carefully
Many posties get injured before they even leave the mail room! Parcels that contain sharp objects should be wrapped with as many layers as physically possible, to prevent injuries. Parcels that are heavier than they look should be covered in "HEAVY" sticker labels as a warning, to protect posties from spinal injuries.
Other hazards
Play the 'Keeping our posties safe' game online, to learn about other potential hazards that you can help posties avoid.
A day in the life
Peter Blair has talked about what a day in the life of a postie is really like. Every morning – bright and early! – Peter gets together with the other 200 posties at his city's mail delivery centre, to sort out who will do each 'beat'. Full-time posties start their shift bright and early at 6:30 am, while part-time posties work during school hours from 9:00 am.
Then it's out onto the road. Posties can do anywhere from 500 to 1,200 "delivery points" (mail addresses) in a single "run". How much they can do depends on how heavy the parcels are, since posties can't carry more than 25 kg on their motorbikes or pushbikes. Peter says it takes around 3.5 hours to complete each run.
The posties who do the high-density CBD runs often walk or ride a pushbike, but when you're in the suburbs or rural areas, you really need that extra horsepower to cover the distance. Postie bikes are limited to 110cc power and can only do 10km/hour on the footpaths. Peter loves his motorbike and being on the road so much that he actually made a documentary about backpacking around Australia.
Peter says the hardest runs for posties are in the sandy desert regions and the coldest mountains in Victoria. All posties always carry a mobile phone with them on their runs, in case they break down or something else happens.
Choosing your courier delivery service
In 2015, we surveyed Australians on what they think about the courier services they use. Not surprisingly in this modern age, we found that the biggest driver of satisfaction was the speed of delivery. Happily, 90% of small business owners we surveyed said they would describe the courier service they most recently used as "reliable".
If you're interested in becoming a postal worker yourself and you're not put off by the dangers we've mentioned in this article, you should check out the list of available jobs on the Australia Post website.
Other articles you might like
Drones: the future of courier services?
Has your business suffered from delivery failure?