Step aside Coles and Woolies, it's Kmart's time to shine with its exclusive range of Harry Potter collectibles hitting Australian shelves.
Following the hugely successful Lion King Ooshies and the Little Shop craze, Kmart has released its own line of characters from the Harry Potter series in the form of mini collectible pencil topper figurines.
There are 36 figurines for fans to collect, including Professor Dumbledore, Draco Malfoy, Lucius Malfoy, Neville Longbottom, Hagrid, Thestral, Dobby, and of course Harry Potter, Ron Weasley and Hermione Granger. There's also a limited-edition furry Hedwig to be found.
However, these are not given out for every $30 spent in store, instead you can purchase a pack of 7 which includes 6 collectibles and 1 hidden figure for $15 each.
"We cannot guarantee which design you will receive as products are selected at random for online orders," Kmart's website reads.
Online, Kmart also offers individual figurines, which can be purchased for $4 each.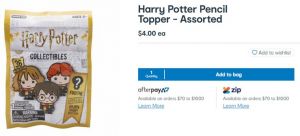 Harry Potter figurines explode online
Harry Potter fanatics have taken to social media with excitement about the new collectible range.
"I have never wanted these but. NOW I WANT THEM ALL!" one user wrote.
"More reasons to be shopping at Kmart," another fan said.
"Here we go again. I'm still trying to get over the Woolies OOSHIE saga of 2019!"
Accio ruthless mums. https://t.co/Yr9Gfmkxo5

— PEDESTRIAN.TV (@pedestriandaily) October 30, 2019
With the wave of collectable-related frenzies subsiding over at Coles and Woolworths, lifestyle giant Kmart is about to unleash their own. https://t.co/DWzVg6d0Fb

— 10 daily (@10Daily) October 30, 2019