Many supermarket private label foods contain "consistently and substantially" less salt than more expensive branded products, new research claims.
A study of more than 15,000 products by the George Institute for Global Health found salt content was an average 24 per cent lower in desserts, 24 per cent in biscuits, 22 per cent in processed meats and 7 per cent in breads. Researchers tested products from the shelves of Coles, Woolworths, ALDI and IGA.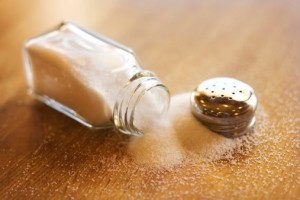 Cakes, pastries, muffins, cheese, ready meals and processed fish were also among the foods tested. Breakfast cereal was the only category to buck the trend, with salt content in private label products found to be an average 37 per cent higher.
The study, conducted over three years and published in the journal Nutrients this month, did not compare overall nutritional value, leading the authors to advise consumers to still judge foods on their individual merits. But lead author, Helen Trevena, said the study could shift perceptions in the supermarket aisles.
"The general opinion among consumers is that supermarket brands are of an inferior quality, but this research shows that is not always the case in regard to salt," Ms Trevena said.
"We looked at thousands of products across the major supermarket chains in 2011 and 2013 and found that when it comes to salt content, supermarket private label products can be a lower salt option.
"This is good news, especially for families shopping on tight budgets who are more likely to buy private label products, but are also most likely to suffer from health problems caused by high blood pressure."
Are private label products better quality?
The study will be received as good news by the supermarket giants amid a renewed focus on private label brands. According to IBISWorld, private label products now account for approximately 30 per cent of grocery sales in Australia – a number that is expected to increase further in the coming years. However, that percentage is still significantly lower than in some parts of Europe – where private labels account for as much as 53 per cent of grocery sales – and in the USA where the number is 35 per cent.
A Canstar Blue study on supermarket shopping habits found that almost one in four consumers have switched supermarkets in the last year, with the majority looking to save money. It also found that 44 per cent of consumers are tending to buy private label products over branded goods, while 59 per cent believe they are often of equal quality.
For the second year in a row, the survey of almost 3,000 shoppers found ALDI was rated highest of the big supermarket chains for overall customer satisfaction.