If you're looking for a product you need to buy, what's one of the first bits of research you do? You hop on your computer and take a look at the websites of companies that sell it. An online presence is essential these days for any business, large or small, that sells its goods or services to consumers on a regular basis; this can be a proper website, a listing on a popular site or a presence on social media.
So, if you run a small business, what are the advantages of having your own site, and what are some roadblocks to overcome when establishing your online presence?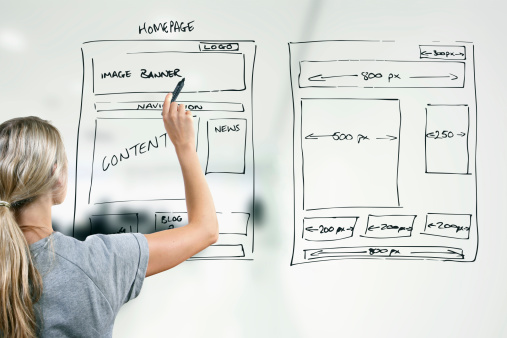 Better relationships, better sales
According to a recent report by MYOB, the number of small to medium sized enterprises (SMEs) with a website or social media presence was 55% in April 2015; whilst this is an increase of over ten percent since last year, there are still a huge number of Aussie businesses which aren't yet online. Having a website or social media presence provides several significant benefits to your business.
The biggest and most obvious of these is driving sales, and this occurs due to a number of reasons. A transactional website provides another method of purchasing your products for new and current customers, one that's available for access 24/7, all over the world; a website also has much lower costs than running a physical store, including not having to pay rent, wages, maintenance and many other costs.
Another, more basic reason is just as significant: an online presence means increased awareness of your brand. Simply put, if not many customers are aware that your business exists, you're not going to get many sales compared to a well-marketed competitor; and a well-managed website and social media accounts will give you a huge boost in this regard.
Furthermore, a good-quality website also gives you a more professional, authoritative image by adding another facet to your business –with the addition of a website you're no longer just a local store, you're the complete package, a widely known market competitor that everyone can now access. Websites aren't just about sales either – you can provide services to your customers such as opening hours and contact details, news about forthcoming products and even take feedback and improve your offerings.
In addition to the big benefits on the customer end of your enterprise, online facilities also make it much easier to liaise with your suppliers, contractors and other business contacts. Networks such as LinkedIn are valuable for establishing professional connections that can grow your business, and a company website provides an easy advertisement for any suppliers who might want to provide their services to you. Getting a site up and running is therefore a very useful idea – so why do so many businesses still not have one?
How's your quota?
One of the biggest reasons that businesses don't have much going on online is a sub-par internet package. According to the same MYOB report mentioned before, 24% of SMEs aren't happy with their internet connection and one percent less than that are unhappy with how much it costs them. A slow internet connection will hamper how well you can conduct your business online, including managing site content, implementing new features and accessing email and cloud storage. Many businesses in areas with outdated network technologies, such as ADSL, simply don't bother as a result. Fortunately, the National Broadband Network is currently being rolled out across the nation – for more information, check out our NBN buying guide and learn about the different types of network technology.
For some businesses, cost is also an issue. Broadband internet is a significant monthly expense, and your business may only be able to afford a cheaper plan with lower data caps or lower speeds – without a large enough download and upload quota, it's difficult to run a thriving website or manage a social media page. Regardless, it's worth investing in a good broadband plan if you can: it'll pay for itself in the long run as you build an online presence that brings significant extra revenue to your growing business.