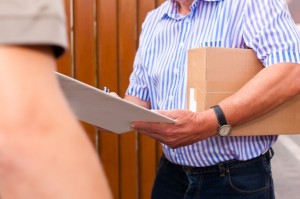 Everyone's ordered something online at some point, only to be dismayed at the estimated delivery date. It seems like online stores can never deliver our orders to us as quick as we'd like, and there's generally not much you can do to accelerate the delivery process. That being said, there are a few little things you can do which may reduce the time it takes for you to get your hands on whatever goods you've been yearning for.
Order earlier in the day
Some sites will have a policy whereby ordering before a certain time of day (usually around 1pm), will enable you order to be shipped out that day, rather than waiting around and being shipped the next day. So when you think about it, you can cut your order delivery time by a day simply by ordering maybe a few hours earlier than you were planning to. Definitely worth doing.
Use your workplace to your advantage
If you work in your city's CBD, then put your work's address rather than yours. It's general (but not official) wisdom that parcels get delivered to metro areas faster than they do to outlying suburban areas. So unless you live in the city, this is definitely worth a try. The other benefit of doing this is that because there'll always be someone at the office to sign for your package. You'll completely dodge the potential problem of not being home when your parcel arrives, and subsequently having to travel to the nearest post office to retrieve your package, adding even more time to the process.
Splash out on express delivery
This isn't really a trick; however it is the way of ensuring that your parcel makes its way to your hands in less time. Most sites will offer an express option at the shipping screen, however the catch is that some sites will charge an arm, a leg, and maybe your firstborn for the privilege of faster shipping. That being said, some sites have rather reasonable express shipping rates, so it's definitely worth looking into if the estimated delivery time on standard shipping just isn't soon enough.
ETAs on parcels can often be disheartening, but even if there's absolutely nothing you can do to speed up the parcel's journey, just remember that it is on its way, and it'll be in your hands sooner or later.