There's a lot to like about grocery shopping, particularly the prospect of all that great food you'll soon be tucking in to. Nevertheless, supermarkets can also be ground-zero for consumer niggles, as our most recent results reveal, so we've collated some of Aussie shoppers' top bugbears.
Checkouts and miss-outs peeve us most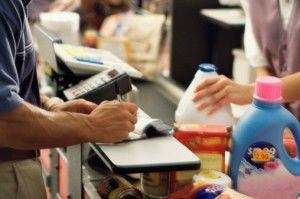 Topping the list was "Long queues at the checkout", which was a pet peeve for 62% of supermarket shoppers. Sadly, we can't offer a remedy for this, besides the obvious solution of shopping when it's less busy – if you're lucky enough to have a supermarket nearby that stays open until 8pm or beyond on weekdays, perhaps you should spend your weekends enjoying yourself and do your grocery shopping on a Monday instead.
What else aggravates the average Australian shopper? Finding out that an item they really wanted is sold out, which annoyed 52% of shoppers. Here are some of the other top peeves:
"Parents not controlling their misbehaving children" (38%). Maybe zone out the chaos the next time you hit the aisles by donning a set of headphones and listening to your favourite, chilled-out tunes?
The same percentage find "self-service machine errors" annoying (e.g. "Please place item on scales" message when you have already done so).
Thirty-six per cent are annoyed by aisles being blocked by other trolleys and customers. Again, shopping during less busy periods effectively solves this problem, though of course that's not an option for everyone!
Being unable to find staff members to assist and trying to find car parks were both similarly loathed by customers (29% and 28% respectively).
Supermarket parking divides drivers
The supermarket pet peeve producing some seriously interesting stats was "trying to find a park". Breaking the results down by demographic we found:
Drivers from New South Wales seem to be rather more highly strung, with 33% citing this as an irritation compared to the chilled Tasmanians, just 16% of whom get worked up about it.
Both Gen Y and Gen X respondents got more stressed about the parking situation than Baby Boomers (34% and 32% versus 23%).
Women are slightly more likely than men to report supermarket parking as a frustration (31% versus 25%).
It's not all frowns
Australians don't seem to mind people having a bit of a "chin wag", however, as only 11% of our survey respondents reported that chatty or talkative checkout assistants annoy them. Furthermore, just nine per cent find the opening and closing hours of their supermarket to be a bone of contention.
In the spirit of all this positivity, it's good to focus on the things we enjoy about our grocery shopping experience. Things like:
Receiving a smile from supermarket staff
Nailing the perfect park
Finding your favourite foods reduced to clear or on special
Imagining all the delicious meals you'll be indulging in throughout the week.
As the song goes – "Accentuate the positive … eliminate the negative"!