Woolworths has hinted at a new supermarket collectables campaign to rival that of Coles' hugely successful Little Shop and Stikeez promotions. And Disney looks set to be the theme!
A Disney Mickey Mouse cut-out was recently spotted outside a Woolies store in New South Wales, with the caption: "The magic arrives on 27th of Feb".
Reacting to reports of an upcoming promotion, a Woolworths spokesperson told Canstar Blue: "We've got some magic coming to our customers soon. Stay tuned for further details."
While it hasn't been confirmed, it seems Disney-themed collectables will be hitting Woolworths stores across the country shortly.
The teaser has gone down well on social media, with one Facebook user posting: "I'm not fussed on these Coles Stickeez, I'm going to check out Woolworths Disney when they come out."
Another user said: "I'm not a collector of many things from woollies but this is Disney… if anyone is not going to want them please save them for me!"
In response to Coles' groundbreaking Little Shop promotion last year, Woolworths launched its own pop-outs promotion featuring 12 Christmas-themed buildable cardboard characters. But it failed to catch the imagination of shoppers in the same way.
Coles Stikeez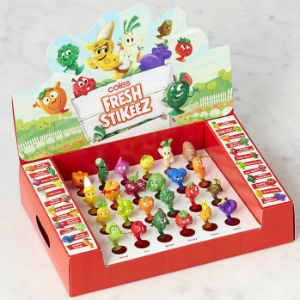 News of the new Woolworths promotion comes just a few days after Coles launched its Stikeez campaign, featuring 24 miniature versions of fruits and vegetables.
For every $30 spent in Coles stores, online or at Coles Express, customers can receive one free 'Stikeez' character.
The campaign aims to encourage kids and their parents to eat healthy, incorporating a variety of fruit and vegetables into their everyday meals.
"We know our customers loved Little Shop and we really wanted to come up with an idea that would be just as exciting – if not better – and this campaign is really going to generate a lot of excitement but also teach kids about healthy eating and get them excited about fruit and veggies," said Coles spokesperson Martine Alpins.
Hundreds have already jumped on the latest Coles bandwagon and signed up to Facebook swap groups, showing what they have and what they need.
Woolies has previously featured Disney-themed card and sticker collections, which attracted its own online trading groups back in 2016.