Woolworths has revealed a new program to help make healthier food choices easier for Aussies, with the help of a celebrity chef.
Teaming up with Jamie Oliver, Woolworths has created an online hub called 'Healthier Easier' that will help its customers consider easy swaps, simple nudges, hacks, tips and healthier recipes to inspire and support them to eat well.
The online hub will be updated with ideas and recipes, and customers can be assured that the recipes have been reviewed by a team of Woolworths nutritionists, the supermarket says.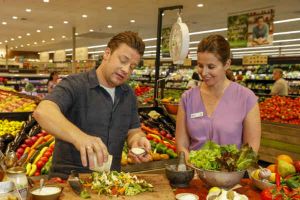 Woolworths Supermarkets Managing Director, Claire Peters, said: "Our customers continue to be motivated to eat healthier and want us to make it easier for them and their families to do so.
"Working closely with Jamie we are further showcasing our commitment to help our customers take more steps to eating better using the fresh, healthy and affordable ingredients they can access when shopping with us online or in-store."
Jamie Oliver said: "It's brilliant to see so many Aussies taking steps towards being healthier. We all need a little helping hand now and then, so I hope these recipes and tips make it even easier for busy people to make delicious, healthier meals at home.
"As part of the program, I'll be sharing my favourite tricks for eating well, giving beautiful fresh produce some love, and hopefully getting Aussies really excited about new ways to eat more of the good stuff.
"I've seen Woolworths set the standards in Australia on so many important initiatives, from food waste, industry reformulation, health star labelling, the brilliant free fruit for kids in store, and the new Fresh Food Kids Discovery Tours that students can do in-store. The Healthier Easier program is another brilliant way to highlight great, healthier, tasty food."
So far, more than 136,000 kids have participated in the Woolworths Fresh Food Kids Discovery Tours since it launched in 2018, and more than 72 million pieces of free fruit have been given out to kids by Woolworths over the past four years, the supermarket reports.
Ms Peters added: "We know that healthy food habits start from a young age which is why in addition to the Healthier Easier program, helping educate and inspire Aussie kids to make smart and fresh food choices also remains critical for us."
The Healthier Easier tips and recipe cards will be available in-store at Woolworths, as well as at point of sale, in the Woolworths catalogue, Fresh magazine, and will also be supported across social media.
Woolworths initiatives
Aside from the 'Healthier Easier' program, Woolies says it has been striving to help Aussies across the country with these initiatives:
Providing clear front of pack labelling: Woolworths has stated it displays the Government's front of pack Health Star Rating across 100% of eligible Woolworths branded foods making it easier for customers to make a healthier decision. This includes over 2300 Woolworths products with stars on pack.
Improving the nutrition of Woolworths food range: In the last seven years, Woolworths claims to have improved the nutrition of more than 300 products, resulting in 414 tonnes less salt, 133 tonnes less saturated fat, 267 tonnes less sugar and 13,600 tonnes more whole grains.
Woolworths Fresh Food Kids Discovery Tours: In an initiative aimed at inspiring the next generation to love their fruit and veg, Woolworths has launched free educational tours in-store. More than 136,000 students across the nation have taken part on the journey thus far, according to Woolworths.
Woolworths Free Fruit for Kids: Launched in 2015, this initiative has given out 72 million pieces of complimentary fruit to kids a year.
Woolworths Odd Bunch Range: The Woolworths Odd Bunch range of imperfect fruit and vegetables not only helps customers save money, it also helps our minimise food waste at the farm. Woolworths has said it's sold over 100 million kilos of the Odd Bunch range.
Affordability: Woolworths has dropped the price on over 1000 'healthier for you items' in the last few years. Some new price dropped items includes, Woolworths Family Size Spaghetti Bolognese 1.1kg (WAS $12, now $10), Woolworths range of Muesli 750g (WAS $3.85, NOW $3.50), Macro Organic Yoghurt 1kg (WAS $6, NOW $5.20), Woolworths Cheese Slices 200g (WAS $4.50, NOW $4) and Woolworths Great Start Cereals (WAS $4, NOW $3.20).
Dedicated space to fresh: To make it easier to choose and eat healthier, Woolworths has said it's begun increasing space in new and renewed stores for fresh fruit and vegetables and more shelf space allocated to dedicated health aisles.
Supporting healthy lifestyles via junior sport: Woolworths has a number of partnerships with the highest participating junior sports in Australia including Cricket, Netball and Surfing.