If you're like the one in five Australian adults who cite checkout queues as their greatest supermarket shopping frustration, Woolworths might have the answer to your prayers.
This Thursday (September 6), the supermarket giant will trial "shop and go" technology at its store in Double Bay, NSW, allowing customers to scan groceries with their smartphones as they shop and then leave the store without going through a checkout.
Woolworths will invite a few thousand loyalty scheme members from the well-heeled area to download its Scan&Go app and take part in the trial.
Shoppers will be able to use the app to scan barcodes on each item they put in their basket, trolley, or shopping bag, while specially-designed produce scales have been built to scan fresh fruit and vegetables.
Once customers have completed their shopping, they can pay from the app, which is linked to their credit card and Woolworths Rewards loyalty membership, rather than at a checkout.
In a recent Canstar Blue survey of more than 2,200 supermarket shoppers, 20% gave checkout queues as their greatest cause of supermarket stress, ahead of items being sold out or unavailable at 16% and other customers (i.e. blocking aisles or getting in the way) at 15%.
Woolworths' Head of Digital and Payments, Paul Monnington, said customers are already using their phones to do everything from ordering an Uber to checking into flights, which makes "shop and go" a natural next step.
"We're getting feedback from customers who are busier and busier… and they're using their mobile phones all the time," Mr Monnington said. "So we're looking at actually making that shopping experience better and more convenient for them, and actually bringing the mobile into that world."
Woolworths sees two potential benefits for customers in using the technology – first is consumers using the app to track how much they have spent as they shop to stay within budget, and second is being able to exit the store more quickly by not having to unpack and scan their items at a checkout.
According to Canstar Blue's survey, almost three in five shoppers (58%) tend to make impulse purchases when grocery shopping, making "shop and go" a possible tool to reduce excessive spending.
The survey also found that half of Aussie shoppers (51%) prefer using self-service checkouts when given a choice.
When asked about their main reasons for favouring self-service checkouts, 82% said it's because they find them to be quicker to use than traditional checkouts, while 13% said they don't like interacting with checkout operators.
If you see someone who looks like they're shoplifting from a Woolworths in Sydney's eastern suburbs anytime soon, think twice before raising the alarm https://t.co/nVvnOtjYJ5 | @pwhatch

— The Sydney Morning Herald (@smh) September 5, 2018
Supermarket self-service checkout theft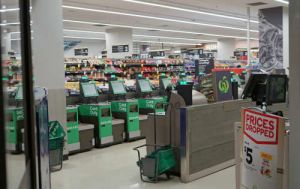 As a final step before leaving the store, customers taking part in Woolworths' trial will swipe their phone on a "tap off" pole. This last step is not strictly necessary, but Mr Monnington said it was included after Woolworths' research found some customers felt uncomfortable walking out seemingly without paying.
The tap-off pole will turn green if customers are good to go or blue if staff need to check their shopping for restricted items. It will also be used for random checks to monitor whether customers are scanning items properly. Shoppers can also take their phone to a staffed checkout to pay.
Woolworths stressed that it has no plans to roll-out the technology beyond its Double Bay store, but hopes to learn whether its customers like shopping that way and how it fits in with its existing staffed and self-service checkouts.
Like the self-serve checkouts that Woolworths and Coles have introduced, 'just walk out' technology creates a risk of theft, but Mr Monnington said that Woolworths believes the majority of customers will "do the right thing".
Canstar Blue's survey revealed that 7% of shoppers admitted to deliberately stealing an item while using a self-service checkout in the past (i.e. they intentionally took an item without scanning it), while 9% of respondents admitted to deliberately not paying the full price for an item (i.e. scanning it as a cheaper alternative).
Fruits, vegetables, packaged foods and fresh meats are some of the items most likely to be stolen from supermarket self-service checkouts, the survey found.