Australia is no stranger to brekkie TV drama. And we're just going to say it – Hollywood may have been watching us, if their new journalism dramedy is anything to go by. We're talking, of course, about Morning Wars (re-named from The Morning Show for its Australian release), one of Apple's first and most promising originals set for release later this year.
It was 2017 when Apple first announced it would be releasing its own streaming service called Apple TV+ to rival the likes of Netflix and friends – and that Jennifer Aniston and Reese Witherspoon would be producing one of its first original shows. Since then, the hype train has been slowly but surely gathering steam.
But it wasn't until this week that, much to everyone's delight, Apple finally added major fuel to the train by dropping the first full trailer of Morning Wars, which also stars Steve Carell.
What is Morning Wars about?
Based on Brian Stelter's book, Top of the Morning: Inside the Cutthroat World of Morning TV, Morning Wars is a behind-the-scenes look into the real world of New York breakfast television. The 10-episode dramedy (which is already renewed for a second season) stars three major journalists all at different points in their careers.
Aniston (who, like with Carell in The Office, has not appeared as a main character in a television show since Friends) stars as seasoned, but ageing, morning anchor Alex Levy who outs long-time co-anchor Mitch Kessler (Carell) after he's fired due to sexual harassment allegations. Witherspoon also stars as Bradley Jackson, the younger local reporter who has America falling at her feet – and has Alex scrambling to secure her spot as top dog. It's kind of nice to know the Green sisters never stopped fighting.
Also featuring in the all-star cast is Billy Grudup (Almost Famous' iconic Russell Hammond), Gugu Mbatha-Raw (Beyond the Lights), Nestor Carbonell (Bates Motel) and Mark Duplass (The League).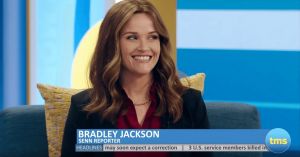 What can we tell from the trailer?
The Morning Wars trailer doesn't beat around the bush – from the very first scene we see Alex going off script and throwing Mitch under the bus, triggering some sort of manic episode from him. We also catch the first glimpse of Witherspoon's Bradley character, brought in for "grooming" as Alex is "past her sell-by date". Predictably, this doesn't end well, with a cut to Alex sobbing: "You stole my life. You left me in the woods with a pack of wolves."
Discussing the show back in March at Apple's press conference, Aniston said that they were hoping to show the "power dynamics between men and women in the high stakes world of morning news shows." We think they pull that off in the trailer alone – the last scene showing boss-lady Alex talking confidently to a board of men, "the part you guys never seem to realise is that you don't have the power anymore. And frankly I've let you bozos handle this long enough. We are doing this my way."
Brekkie TV has literally never been this exciting. Set your alarms for November.