Between Two Ferns with Zach Galifianakis is peak comedy, and there's nothing you can do to convince us otherwise. It's been over a decade since the first episode of the low budget, uncomfortable web series was posted on Will Ferrell's comedy production channel Funny or Die, and five years since it was produced regularly. It's safe to say we have a hole in our hearts that only awkward plant chat between Zach Galifianakis and famous acquaintances can fill.
But while we were hopelessly praying for a miracle, Galifianakis was hard at work – taking his purposely horrible celebrity talk show on the road and to the big screen with Netflix's Between Two Ferns: The Movie.
What is Between Two Ferns?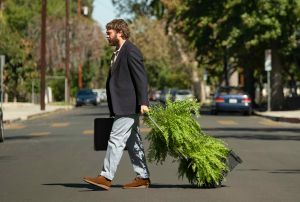 If you're unfamiliar with the show (let it be known we're judging you), Between Two Ferns with Zach Galifianakis is a sketch series hosted by Galifianakis in which he interviews celebrities while sitting in between two ferns. The interviews are awkward, riddled with insults, and basically just really weird.
Both Galifianakis and the interviewee are rarely seen even smiling – true bravery and strength by everyone involved. The first episode originated as a short film on a sketch pilot for Fox by Scott Aukerman, but after the network declined to pick up the show, it was uploaded onto Funny or Die. It was here, on the internet and available for public access, that Between Two Ferns thrived. The first episode with Michael Cera quickly went viral and resulted in regular episodes with world famous celebrities.
Moments that stand out to us include Justin Bieber's 2013 interview in which Galifianakis opened with, "It's really exciting to talk to you. Especially right in the middle of your public meltdown" and Brad Pitt's 2014 interview when Galifianakis asked 'Bradley Pitts' if meeting his then-wife Angelina Jolie was "one of those classical love stories – like, I don't know – when Ross first met Rachel?"
And we can't forget when the ferns managed to snag President Barack Obama as a guest, timed to encourage Americans to sign up for health insurance. The episode racked up an impressive 26 million views online, with Galifianakis asking the important questions "How does it feel to be the last black president?", "Why are you such a nerd?" and "What team did you support in the Winter Olympics"?
What can we expect from Between Two Ferns: The Movie?
The star-studded trailer opens with Galifianakis conducting an uncomfortable interview with Matthew McConaughey, which ends in disaster as the set suffers a leak so big the water almost drowns and kills McConaughey. In order to salvage Between Two Ferns, Will Ferrell and the executives from Funny or Die demand he shapes up and ships out – across the country, collecting ten high-profile celebrity interviews that will impress them.
Galifianakis sets off on the road trips to end all road trips, with a looney crew in tow, including Ryan Gaul, Lauren Lapkus and Jiavani Linayao, to get the job done. "Here's to the crazy ones, the misfits and ding-dongs," says Galifianakis to his crew. "Some people would say we're the crazy ones, but I think we're geniuses."
The trailer also shows a sneak peek into the ridiculous amount of celebrity cameos, almost all of whom are playing themselves:
Will Ferrell
Matthew McConaughey
Benedict Cumberbatch
Peter Dinklage
Chrissy Teigen
David Letterman
Jason Schwartzman
Tiffany Haddish
Paul Rudd
Rashida Jones
John Legend
Adam Scott
Brie Larson
Jon Hamm
Chance the Rapper
Keanu Reeves
Between Two Ferns: The Movie is co-written and directed by Scott Aukerman and Galifianakis (Auckerman has been with the project since he first tried to launch it way back when) – and when we say written, we mean 80% improvised script work on the day. Could it get any better than that? We think not.
No one is safe when they're placed between ferns, so be careful as you head into the jungle with Galifianakis as Between Two Ferns: The Movie is released on Netflix on September 20.