The wait is finally over. You can let out that breath of anticipation you've been holding in since early 2018 (yeesh, really hope you made it) when it was announced that Charlie Brooker's Black Mirror would return for a fifth season. Well, just over a year later and it's finally time to take a dive back into some creepy dystopian futures. Ready?
What is Black Mirror?
Since its release in 2011, Black Mirror has played a larger role than some would care to admit in our collective anxiety towards the advancement of technology and its effect on our future. Created and written by Charlie Brooker and produced by Annabel Jones, Black Mirror is an anthology series which uses dark humour, satire and tragedy to explore the way in which our society is rapidly approaching a world in which modern technology can backfire. Every episode is set within a different reality with different characters, but Brooker and Jones' message remains clear along the way.
What can we expect in season five?
We know the wait has been long – but by the looks of the recently released teaser trailers for each episode, it's going to be worth it. The new season is set to be released on June 5, with three episodes dropping on Netflix. Originally slated for an earlier release, the upcoming season was pushed back after the team at Black Mirror created a television first with their interactive, choose-your-own-adventure extraordinaire that was 'Bandersnatch'. Originally intended as one of the four episodes of season five, Bandersnatch was such a mammoth effort (the episode contains five hours of possible footage) that it was released as a standalone film – and season five was reduced down to three episodes, the same as the first two seasons.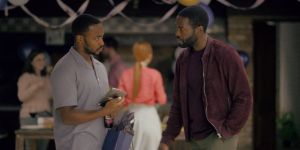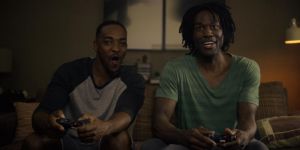 The upcoming episodes
In typical Black Mirror fashion, we've been teased some details surrounding the three episodes – enough to pique our interest (and anxiety) but not enough to have any real clue about what bleak mew stories are to come. All three episodes have been written by Brooker himself, and feature the crossover of characters we honestly never thought we'd want – Hannah Montana, Marvel's Falcon and Sherlock's Moriarty.
Rachel, Jack and Ashley Too
Miley Cyrus stars in the episode titled 'Rachel, Jack and Ashley Too' as a pop star with a positive public façade, who, once the curtain closes, struggles with her mental health and a pill habit. She releases a line of "lovable" interactive dolls aimed at increasing interaction with fans, but when the robot begins to mirror the pop star's own life – things get ugly. Of course they do!
Striking Vapers
'Striking Vapers' features the Marvel Cinematic Universe's Anthony Mackie as a family-man with a wandering eye, who reunites with a college friend much later in life and sets him on a much different path.
Smithereens
The third episode is called 'Smithereens', which stars Andrew Scott (BBC's Sherlock) as a cab driver who hates modern technology and has a hidden agenda.
"The future we should've seen coming" returns June 5 on Netflix.
Stream 50+ Sports with Kayo
Love streaming? Love sports? Kayo is a new streaming platform that provides access to a wealth of sports, from basketball to cricket, motorsports and soccer. Click 'go to site' for more details.
Brand
Subscription Type
No. of Screens

/same time viewing

Advertised Cost^^

/month

Stream over 50 sports, Live & On Demand
Watch on 2 screens at the same time
14 days FREE trial (New Customers Only)

min. cost $25 over 1 month

2

$25

Go To Site

Stream over 50 sports, Live & On Demand
Watch on 3 screens at the same time
14 days FREE trial (New Customers Only)

min. cost $35 over 1 month

3

$35

Go To Site

Telstra Exclusive Offer – Basic Subscription

Special Offer: 2 months of Kayo Basic for $5
Available to Telstra customers only. T&Cs Apply

min. cost $5 over first 2 months

2

$25
$5

Get Offer

on Telstra's website

^^View important information