If you're a fan of crime, but are sick of TV shows using similar formats – or better yet, you thrive on conflict and confrontation – then listen up, because we've got something we think you're going to like.
Praised as being "highly ambitious" and "unique", Criminal is the brand new, must-see crime anthology featuring David Tennant – which takes place entirely within the confides of the police interrogation room between officers and the prime suspect. Not only that, but the 12-epsiode series will feature a new storyline every episode, and a new country (and language) every three – so if you're looking for something to keep you on your toes, look no further.
What is Criminal?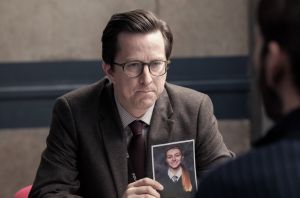 Criminal explores the relationships between 12 different criminals and police officers who are trying to catch them. The gimmick? The entire series takes place in just three sets; the police interrogation room, the hidden observational room and the corridor outside. It is also set in four different countries – the U.K, Spain, Germany and France. Each country showcases three episodes, but every episode is a new storyline following a different 'criminal'.
One of the U.K. episodes stars Doctor Who actor and cinematic genius David Tennant, who plays a father accused of murdering his step-daughter, while also starring Hayley Atwell (The Avengers) and former Royal Shakespeare Company member Youssef Kerkour.
Also featuring is Bodyguard's Shubham Saraf, Line of Duty's Rochenda Sandall, as well as Marcella's Nicholas Pinnock. The episodes set in France, Germany and Spain are all filmed in their respective languages, starring actors that are known famously in their own countries for their work in crime and thrillers – because our obsession with crime is universal, apparently. The role of director and scriptwriter is also spread across the talent from each country, however George Kay (who wrote for Killing Eve and The Tunnel) and Jim Field Smith (The Endeavor) serve as overall show runners.
What can we tell from the trailer?
The show has only released a minute-long trailer, which hints at some intense mental battles to come – described by Netflix as "cat-and-mouse" between suspects and officers. The trailer starts slow and ends with screaming, crying and three police officers' verdicts – guilty, guilty, innocent.
We have a feeling there is going to be a lot more where that came from, and you can catch it all for yourself when Netflix drops all 12 parts of Criminal on September 20.