It's a show that was first described as "the girl version of the Inbetweeners". But, after an unexpectedly triumphant first season, the Northern Ireland comedy-drama 'Derry Girls' stands alone in its own category. And now, they're back for a victory lap, with season two landing on Netflix on August 2.
What is Derry Girls?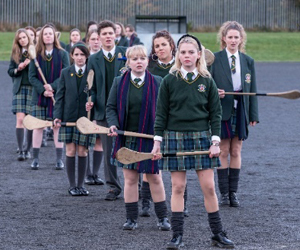 Set in the 90s throughout Northern Ireland, Derry Girls follows five teens attending a catholic school during The Troubles – a grim backdrop that makes for some absurd dark comedy. The Derry Girls include main protagonist Erin (Saoirse-Monica Jackson), her whacky cousin Orla (Louisa Harland) and their friends, the anxious and sexually confused Clare (Nicola Coughlan) and the fiery Michelle (Jamie-Lee O'Donnell).
Oh, there's also one more – that 'wee English fella' and honorary Derry girl James (Dylan Llewellyn), Michelle's cousin who refuses to attend the all-boys school because of fears he will be bullied for his accent. Together the group attempt to balance the highs and lows that is the beauty of adolescence, whilst surrounded by armed police, riots and the constant reminder that the world doesn't always go your way.
What can we expect from season two?
All of the original cast are back, and creator, writer and OG Derry Girl Lisa McGee promises the second season is "bigger, better, but they're still eejits".
Judging by the trailer, the peace movement is beginning to roll out as it hits the later 1990s. The girls and the wee English fella attend an outdoors pursuits weekend as part of a peace initiative to bring together the Protestant and Catholic kids, called "Friends Across the Barricade" – which turns more into a weekend pursuing the boys from the Londonderry Boys Academy than anything else.
It has also been revealed that an episode will focus on Bill Clinton's famous visit to Ireland and the speech that he gave to Derry in 1995.
Round two with the Derry Girls looks like a hot mess – just the way we like it. Catch the full season on Netflix when it drops on August 2.