Australians are using more broadband data than ever before, particularly since the arrival of numerous online TV streaming services that have the potential to gobble up a household's monthly allowance and bring your binge-watching bliss to an abrupt end quicker than you can say "next episode, please".
We're obsessed with data and consumers are starting to adjust to the changing landscape, with unlimited plans becoming more and more popular. The National Broadband Network (NBN) is also continuing to provide faster internet to homes across the country.
Three factors are driving our unrelenting demand for data:
Australian households have an average of eight interest-enabled devices.
The internet is the now first port of call for many daily activities like booking tickets, paying bills, doing banking, shopping and homework.
But most of all it is the surge in entertainment services delivered via the internet, with Netflix, Presto and Stan launching in Australia.
These factors are going a long way to households exceeding their monthly data limits and driving the push for unlimited plans. To discuss this, we spoke to a spokesperson from Optus.
Unlimited broadband plans
"Over the last four years, Australians have more than doubled their demand for broadband data, using just over one million terabytes in the last year alone. As we use the internet to do more, we're increasingly conscious of how much broadband data we need and whether we have sufficient data to do the things we want.
"In fact, with Optus research showing that up to 40% of consumers are worried about chewing through their broadband data before the end of the month, it's not surprising that an increasing number of our customers are opting for broadband plans that offer unlimited data. With unlimited data they can watch what they want, when they want to watch it, without the frustration of running out of data in the middle of their favourite TV series."
Unlimited broadband plans are a great idea for families that can afford them, but what if you can't? How can you watch the likes of Netflix and still get by without breaking the bank?
"Streaming services are data hungry, so if you're going to stream content or subscribe to an inter-based TV service, you'll need a plan that gives you the freedom to watch what you want, when you want it. An hour of TV can use up to:
1GB of data if you're watching in Standard Definition
3GB of data if you're watching in High Definition; or
7GB of data if you're watching in Ultra HD.
"If you don't have unlimited data, you can manually adjust the video quality of streaming services like Netflix. This reduces the video quality and uses less data. All you need to do is access Netflix's data usage settings via Your Account > Your Profile > Playback.
Does streaming content cause network congestion?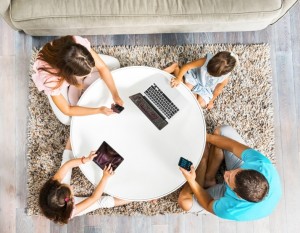 "There are many factors that determine a customer's broadband experience, including network type (ADSL 2+, Cable or NBN), the distance between a customer's property and the network exchange, the modem model being used to connect a customer to the network, or the number of concurrent users on the network during peak times.
"Netflix uses adaptive streaming technology which will use as much available bandwidth as it can access on a user's home network. This may affect the overall network experience, particularly where more than one person is attempting to use the internet at the same time.
"Our engineers closely monitor the network to give our customers the best possible experience and to determine where work needs to be done to improve network performance. If customers have questions about their broadband experience they should contact their service provider."
How is the NBN changing things?
With unlimited and high-speed data now on our minds like never before, consumer interest in the NBN is naturally increasing.
"The NBN is the national upgrade of broadband networks across Australia and, once complete, will power both broadband internet access and landline phones. As the NBN rolls out in more places, more customers are contacting us about how to get connected."
"Optus offers customers three simple unlimited data plans available across all broadband network technologies (ADSL2+, Cable and NBN). These plans offer plenty of data and a range of calls and entertainment inclusions to suit every lifestyle. A basic speed pack is included when customers connect to the NBN. We also offer a boost speed pack for an extra $10 a month or a max speed pack for an extra $30 a month. If consumers are interested in getting connected to the NBN, they can register with us and we'll let them know as soon as the NBN reaches their home."
How to get the best value broadband?
With an average of eight internet-enabled devices in Aussie homes, discussions around "bundling" have become more common as families share data amongst themselves, searching for the best value possible.
"Customers tell us that they want great value plans that give them the freedom to bundle their internet, landline and entertainment services with the one provider without the huge price tag. We've responded with a range of broadband bundles that offer unlimited data which gives consumers the freedom to use the internet when and how they want without running out of data. Optus has three simple unlimited data bundles:
Home Entertainment Bundle for $95 a month, which is great for data-hungry customers who want all their on-demand entertainment in one place with Optus TV with Fetch and the security of a landline;
Big Bundle for $95 a month, which is ideal for customers who want lots of data and the flexibility that comes with generous domestic and international call inclusions; and
Ultimate Home Bundle for $115 a month, which is the best plan for customers who want it all, with unlimited data, unlimited calls and all the entertainment they can handle with Optus TV with Fetch and the Entertainment Pack.
"There is also an entry-level option with the Home Basics Bundle ($70) which includes 200GB of data per month."
Other articles you might like:
Netflix helping to reduce piracy
Getting the best broadband deal you can