Are you (emotionally) as Broken as Bran after that finale? Do you need one last (Night's) Watch of the show that's left a Daenerys Targaryen sized-hole in your heart?
We're about to be the bearer of bad news – if you're not sitting down, maybe do so (if you are, a decline to full horizontal wouldn't be a bad idea). But aside from the prequel, which is rumoured to be set thousands of years before the happenings of Game of Thrones, we will never see a new episode of Game of Thrones ever again. Just let that sink in.
Everything has an end, even #GameofThrones.
Thank you to all in the realm. pic.twitter.com/CIasWPg1x8

— Game of Thrones (@GameOfThrones) May 20, 2019
But wait!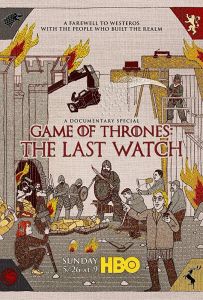 Luckily there is light at the end of the tunnel, and it comes in the form of 'Game of Thrones: The Last Watch'. That's right, HBO are blessing us with a little treat for successfully making it out alive after all eight seasons – a behind-the-scenes documentary on the making of the final season.
While Australian GoT fans have been able to tune in at 11am to catch the 'express' viewing of episodes, the two-hour documentary will air at 8:30pm AEST, Monday, May 27, with no express showing available. Considering we had to wait over a year for the final season, a few more hours should be doable.
The Last Watch was directed by filmmaker Jeanie Finlay, who was granted 'unprecedented access' for a year to the GoT set in order to capture the cast and crew as they worked to produce what was a highly anticipated, six-episode season. It not only features table read reactions with the star-studded cast, but also a never-before-seen viewing into the mammoth effort that goes on behind the camera, including those intense battle scenes.
According to HBO, the documentary "delves deep into the mud and blood to reveal the tears and triumphs involved in the challenge of bringing the fantasy world of Westeros to life in the very real studios, fields, and car-parks of Northern Ireland".
The Last Watch is mandatory streaming for anyone who has felt love (and loss) after the eight rollercoaster years that was George R.R. Martin's Game of Thrones.
"Much more than a 'making of' documentary, this is a funny, heartbreaking story, told with wit and intimacy, about the bittersweet pleasures of what it means to create a world – and then have to say goodbye to it."
Ouch. If you haven't already, prepare yourself with the trailer below, released earlier this month. And with that, our watch has ended.
Image credit: New Vision/Shutterstock.com