Ladies and gentleman, get ready to put your hands together for the best news you've heard all week. Your favourite professional wrestlers from GLOW, the Gorgeous Ladies of Wrestling, are taking their epic all-female show to the fabulous Las Vegas. Pack your suitcase (or, just walk to the couch) as the entire third season of GLOW drops on Netflix on August 9.
What is GLOW?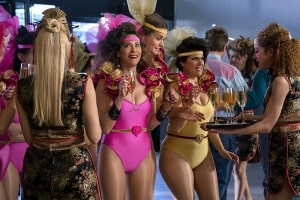 GLOW follows the lives of a group of women from different walks of life who have all turned to professional female wrestling. The characters in the Emmy-nominated show are based off the characters and gimmicks of the real-life 1980's syndicated women's professional wrestling circuit, the Gorgeous Ladies of Wrestling (or, GLOW).
The smash-hit show stars Alison Brie as Ruth, a struggling actor living in Los Angeles. When things are hitting rock bottom, an unusual opportunity comes knocking (quite literally) – the chance at stardom as a "professional" wrestler.
Ruth almost doesn't make the cut – but when producer Sam Syliva (Marc Maron) sees the conflict in the ring between Ruth and her best friend Debbie "Liberty Belle" Eagan (Betty Gilpin) after a messy personal falling out, Ruth is hired as the 'villain' of the show.
She wrestles as "Zoya the Destroyer", a Soviet Union character who fights against Liberty, and who the audience loves to hate.
GLOW was created by Liz Flahive and Carly Mensch, with the show also starring Sydelle Noel, Britney Young, Britt Baroni, Kate Nash, Gayle Rankin, Kia Stevens and Jackie Tohn. It also features Chris Lowell as Bash, the producer of GLOW and Marc Maron as the creator of the GLOW, Sam Sylvia.
What can we expect in season three?
In the first two seasons, L.A. was GLOW's home. However, this season sees the girls taking their show, and their leotards, to Las Vegas. It has been revealed that Geena Davis (the Thelma from Thelma and Louise!) joined the cast as Sandy Devereaux St. Clair as the director of the GLOW's new home – Fan-Tan Hotel and Casino.
Throughout season two we saw Ruth and Debbie mend a very battered and bruised friendship, which is set to continue on into season three (what, you seriously thought it would only take one season to see the bffs back together?).
Season three promises to explore Ruth's relationship with Sam – she's currently dating cameraman Russell, but in season three trailer admits she "sometimes still feels lost". There's also newlyweds Bash and Rhanda, and the question surrounding Bash's sexuality. There's a lot to wrestle with.
Catch the entire third season on Netflix when the bell dings on August 9.