Whether you like Taking Miami with Kourtney and Kim, getting a Revenge Body with Khloe, dining in at SUR with the Vanderpumps, or living the Simple Life with Paris and Nicole – there really is something for everyone on Hayu Australia. The streaming platform has a slightly more niche audience than big names Netflix, Stan and Foxtel Now – because Hayu focuses solely on reality television. Even more specifically, trashy, US television. It's the Kardashian's world, and we're just living in it.
Just like any other streaming platform, Hayu requires an active internet connection, and a pretty strong one at that if you want to watch your fav shows in a clear and high definition. But how much data will a single episode chew through? Read on as Canstar Blue dives into all things data usage on Hayu Australia.
How much data does Hayu use?


You can expect to use around 500MB-1200MB of data per 40-minute episode, depending on which quality you decide to stream in. Hayu outlines the data usage for the following stream qualities:
40 min episode in 540p quality = 567MB of data
40 min episode in 720p quality = 787MB of data
40 min episode in 1080p quality = 1,280MB of data
However, Hayu also states that it's difficult to calculate the exact amount of data one episode uses, as each individual show is encoded at a variable 'bitrate'. Basically, it means data is processed differently for each show based on what is on the screen, and how strong the user's internet connection/device capabilities.
Hayu has also stated that, on Wi-Fi, it aims to deliver the strongest quality video, meaning that your data consumption will automatically be higher on Wi-Fi than when using mobile data. For mobile, Hayu uses 'adaptive technology' which means it works out what is 'appropriate' for the device – if you're running low on data, Hayu will stream videos on the lowest setting, while if you have a bit of data to play with, you can expect to stream in standard or high definition.
Experience buffering on Hayu?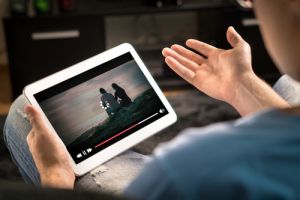 If your shows are constantly being interrupted by buffering or poor quality, this most likely has to do with your internet and/or data speed. Hayu outlines that a minimum internet download speed of 1Mbps is needed to stream, while the recommended internet speed is around 3Mbps for a continuous stream in better quality. If your internet speed is too slow, you should reduce your data usage.
How can I reduce my Hayu data usage?
Unlike some other streaming services, Hayu claims it uses 'adaptive technology' when you choose to stream with your mobile or tablet. This basically means it's doing all the heavy lifting – working out the ideal rate and speed needed to stream episodes with the available data connection. If you're watching through a television, however, Hayu will always choose the highest quality to compliment the bigger screen, which means your internet consumption will be higher.
If you like to watch episodes when you're out and about and don't have a stable Wi-Fi connection, a great option to reduce your data is downloading episodes in advance through your home Wi-Fi. You can then play-back the episodes as many times as you want, without any internet connection, meaning you can enjoy reality television (almost) guilt-free.
How does Hayu data usage compare to other streaming sites?
In comparison to Foxtel Now, Netflix and Stan, Hayu uses a similar amount of data in its Standard Definition streams, while using less data in its High Definition 1080p streams, although doesn't disclose the data usage of its low definition streams. The data usage has been calculated per hour episode based on the figures provided by Hayu above.
| Streaming Service | Low Definition | Standard Definition | High Definition |
| --- | --- | --- | --- |
| Foxtel Now | 0.47GB | 1.4GB | 3.2GB |
| Netflix | 0.3GB | 0.7GB | 3GB |
| Stan | 0.57GB | 1.13GB | 2.89GB |
| Hayu | N/A | 1.18GB | 1.92GB |
Data Usage based on hourly use. Information gathered from respective websites, Jan 2020.
You may be ready to spend 200 hours with the Kardashians, but your internet usage might not be – so make sure you're staying on top of your usage and doing everything you can to cut down unnecessary data chewing. After all, you don't want your internet to cut out just when the episode is getting good.
Sign up to Disney+ Australia
There are two plan options to choose from – a monthly subscription at $11.99 per month, or prepay for a year at $119.99 and save on the monthly cost. Both plans include the same features, with unlimited downloads and the ability to stream on up to four screens at the same time. This table includes links to a referral partner.
Brand
Subscription Type
No. of Screens

/same time viewing

Advertised Cost^^

/month or year

Stream the Disney+ library, including Disney+ Originals, Star Wars, Pixar, Marvel, National Geographic & Star
Watch on 4 screens at the same time
Add up to 7 profiles
Unlimited downloads of shows and movies on up to 10 devices

min. cost $11.99 over one month

4

$11.99

Get Deal

Canstar Blue receives a commission for sign-ups through Disney+ *

Stream the Disney+ library, including Disney+ Originals, Star Wars, Pixar, Marvel, National Geographic & Star
Watch on 4 screens at the same time
Add up to 7 profiles
Unlimited downloads of shows and movies on up to 10 devices
Prepay for a yearly subscription and save on the monthly cost

min. cost $119.99 over one year

4

$119.99

Get Deal

Canstar Blue receives a commission for sign-ups through Disney+ *

^^View important information
Photo credits: Hayu.com, Tero Vesalainen/shutterstock.com