If you were a law student, would you rather be Legally Blonde's Elle Woods, or How to Get Away with Murder's Wes Gibbins, pre-fire-death-slash-horrific-murder? (Oh, come on, the time for holding back spoilers on this is well and truly over).
If you know exactly what we mean, firstly, #Wesdeservedbetter. Secondly, if you're a fan of the epic whodunnit legal murder drama, you'll know this is a tough choice. Sure, Elle was intelligent, beautiful (and would still be alive), but Wes got to solve cases with the powerhouse, legend, takes-no-prisoners criminal defence lawyer Annalise Keating AND was part of the Keating 5 (well, 4 now), so who's the real winner? Probably still Elle Woods, but nonetheless we're excited for the next round of extravagant murder plots on 'How to Get Away with Murder' when it drops on Netflix Australia on March 29.
What is 'How to Get Away with Murder' and who's getting away with it?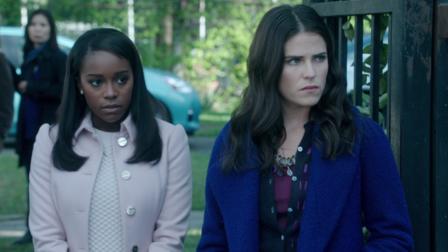 For those of you aren't familiar with the show, let us break it down for you. Professor Annalise Keating (played by the Oscar and Tony award winning Viola Davis) is a brilliant lawyer who teaches a class at Middleton University called 'How to get Away with Murder'. She selects a group of students – Laurel, Connor, Wes, Michaela and Asher, who apparently are the best and brightest – to help with her cases, and in turn they gain real world experience.
What starts as a highly sought-after internship quickly turns into a complicated, terrifying mess as the Keating 5, Annalise and her two loyal assistants, Bonnie and Frank (we said loyal, not pure) become involved in a murder (which throughout the seasons, turns into many murders). So yeah, it's pretty much exactly what you think: a group tied together unwillingly by guilt and fear, literally trying to get away with their involvement in murder(s).
We all need a season three recap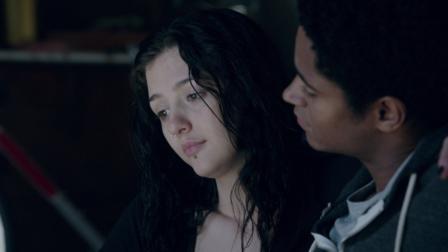 Although season five has already finished airing in America, we poor Aussies have only had the first three seasons available to us on Netflix. And if you're still reeling from season three's ending, we don't blame you – there was a lot going on, and it was all very stressful. The first half of season three shows the characters dealing with various cases, whilst simultaneously teasing snippets of the night of Wes's death (the show is a massive fan of flashbacks).
Obviously, things get a whole lot more grim when Annalise and the other Keating 5 members find out, and to rub salt in the wound – Laurel is pregnant with Wes's baby, AND her dad was the one to kill Wes. God, poor Laurel. We also discover that Charles Mahoney is Wes's real father, and that Annalise refers to Wes as "my son".
What can we expect in season 4?
So going into season four, the question(s) that remain on everyone's lips – why did Laurel's dad kill Wes? Will Laurel keep her baby? And what is Annalise's connection to Wes – could she be his real mother? Not much promo was released for season four, but since the full season is already out in America you can technically find out all the spoilers online – but where's the fun in that?
Instead, we'll leave you with this – in a sneak peek at the first episode of the new season, Annalise's mother exclaims: "You've got people dying all around you every day!" – And to be honest, that pretty much sums up season four.
Catch the gang wiping blood off their hands from March 29 when season four drops on Netflix Australia.
Stream Sports with Kayo
Love streaming? Love sports? Kayo is a new streaming platform that provides access to a wealth of sports, from basketball to cricket, motorsports and soccer. Click 'go to site' for more details.
Brand
Subscription Type
No. of Screens

/same time viewing

Advertised Cost^^

/month

More than 15,000 hours of sport on-demand
Watch on 2 screens at the same time
14 days FREE trial (New Customers Only)

min. cost $25 over 1 month

2

$25
Go To Site

More than 15,000 hours of sport on-demand
Watch on 3 screens at the same time
14 days FREE trial (New Customers Only)

min. cost $35 over 1 month

3

$35

Go To Site

Telstra Exclusive Offer – Basic Subscription

Special Offer: Save $10/mth on Kayo for 12 months
Available to Telstra customers only. T&Cs Apply
Stream over 50 sports, Live & On Demand
Watch on 2 screens at the same time – Add up to 5 profiles

min. cost $15/mth first 12 months then $25/mth

2

$25$15

Get Offer

on Telstra's website

^^View important information