As self-isolation and social distancing continues (and shows no signs of wrapping up anytime soon), it's difficult to keep yourself entertained. If you're anything like us, you've already binged Tiger King (and literally every other television show physically available), replayed every major sporting match of the last 10 years, and completed all of your family puzzles. Luckily for you, creatives are putting their heads together and finding a way to bring your favourite activities usually enjoyed outside, inside.
Coming to a screen (in your home) soon:
Here are some of the live stream genres available to keep you going:
Live music
In Conversation & Literature
Animals
Museums & Art
Fitness
Live Music
We don't know about you, but we're seriously missing the buzz of being in a crowd and watching our favourite musicians playing. Luckily, there are some alternatives.
Isol-Aid Festival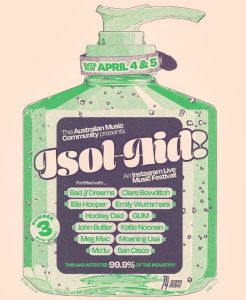 Over the last three weekends, something called 'Isol-Aid Festival' has been happening. Not sure what it is? Basically, it's an Instagram live music festival. Much-loved Aussie artists like John Butler, Courtney Barnett, San Cisco (just to name a few) have come together to perform sets live from their homes via Insta – allowing us to watch along live (and free) in ours! The festival has taken place for the past three weeks and promises to keep delivering as long as we are in isolation. Thank god. Check out the Isol-Aid website and Instagram for information regarding the next one!
Bars, clubs and DJs
Bars and clubs are feeling the pain just as we are. Heaps of your favourite places across Australia are streaming live DJ sets across the weekends. Soho Sundays at Brisbane's Fox Hotel hosts live DJ sets every Sunday afternoon, Melbourne's Poof Doof hosts 'Poof Doof Direct' every Saturday night at 9pm via Facebook Live and OneSixOne are live streaming every Friday and Saturday night from 7pm via their website. Keep your eyes on the socials of your favourite clubs and bars, because and more and more are beginning to get involved!
Tik Tok #HappyAtHome
Popular social media app Tik Tok has partnered with celebrities all over the world to bring everyone #HappyAtHome: LIVE! – nightly programming that changes every day. Examples include 'Motivation Monday' with Tyra Banks and Arnold Schwarzenegger and 'Sound Check Friday' with Alicia Keys and Jason Derulo. Check it out here.
In conversation & Literature
Are you the kind of person who loves to go and watch authors speak live and listen in as creative's swap ideas? These may be worth your while.
From Our House to Yours
The Sydney Opera House has launched a new digital website called From Our House to Yours, featuring all things creativity – both live and on-demand – all for free. Catch music acts (re-watch anything from Missy Higgin sets to classic orchestra), sit in at a live 'writer's room' with award-winning writers from Rick & Morty, Please Like Me, Rosehaven, Community and stay tuned as new programs and lives are announced.
Avid Reader
The popular Brisbane indie bookshop is known across the country for its live events with both local and national authors. Thankfully, instead of cancelling their events for the year, they have begun transferring them online to live zooms. Catch in-conversations, presentations, panels and live readings at the Avid Reader website.
Animals
Warning: once you start a zoo live stream, you may never be able to click away.
Melbourne Zoo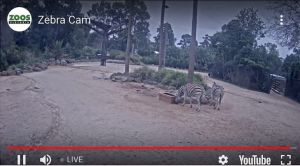 This may be the cutest thing you see all day. Melbourne Zoo have set up cameras in some of their animal enclosures and are granting us 24/7 access to the live stream. Pop in and check out the zoo's new snow leopard cubs, penguins, zebras, lions, giraffes and many more. Head over to the zoo's website now to watch them live, right now!
Melbourne Aquarium
If sea creatures are more your thing, Sea Life aquarium are hosting a variety of live streams and behind-the-scenes content on Facebook. Upcoming live streams include a date with their penguins on April 8 at 10am, and an Easter special on aquatic animals laying eggs on April 10 at 11am. Tune into Sea Life's Facebook for more info and streams.
Museums & Art
Sometimes, you just need a good day spent inside a museum. While the IRL ones will be shut for a while, try taking a virtual tour!
NASA Langley Research Center
If you're looking for something better than just looking at art, let the good ol' people at NASA take you on some virtual tours. Check out flight simulators, the hypersonic facilities complex, NASA's busiest wind tunnel and more. Navigate your way around the website here.
Smithsonian National Museum of Natural History
This one is great for the kids – especially the history buffs. One of America's most famous museums is hosting virtual tours of permanent, current exhibitions and past exhibitions no longer on display. There is almost too much to get through, so you (or the kids) will be glued to the screen for hours. Check it out on their website here.
Fitness
All the gyms are closed, and no one is happy about it. But there are some solutions.
Keep It Cleaner
Aussie Instagram influencer's Steph Claire Smith and Laura Henshaw developed the popular training program Keep It Cleaner – and are now offering free virtual PT sessions every week! With no equipment needed, simply follow the link on the KIC Facebook page to gain access. Classes are 8am every Monday and 7am every Wednesday and Friday.
28 By Sam Wood
Personal trainer (and previous Bachie) Sam Wood is hosting free home-works live streams every morning at 9am. Information and access to the stream can be found on his Facebook page, as well as recorded sessions that can be done later. Tuesdays and Thursdays are also kid friendly sessions.
Chris Hemsworth's Centr
The famous celeb is offering a six-week free trial of his popular home-workout app Centr, to encourage and help get Aussies up and moving when all they want is the couch. Chris and his team of world-class trainers and dieticians will help with home workouts (although, they are recorded and not live streams), plans and mindfulness to steer you on the path to Thor-like muscles. Check it out here.
Hopefully these suggestions will keep you entertained – and get you (virtually) out of the house!
Photo credits: Isol-Aid Festival, ZoosVictoria.com