The King of outlandish comedy himself, Sacha Baron Cohen is hitting pause on his usual antics and diving feet first into a new and unexpected dramatic role in Netflix's The Spy. Known famously for his portrayal of fictional satirical characters such as the gangsta-wannabe Ali G, the green mankini-wearing Kazakh journalist Borat, and the flamboyant Austrian fashion enthusiast Brüno, Cohen is flexing his dramatic chops in The Spy – and leaving his comedic alter-egos at home.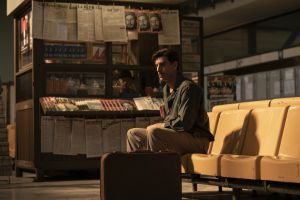 What is The Spy?
Based on a true story, Netflix's The Spy stars Cohen as another famous Cohen – Eli Cohen, a 1960s Israeli spy who successfully infiltrated Syria and relayed key intel that aided his country's success in the Six-Day War. The six-part miniseries, which was written and directed by Gideon Raff (Homeland, Prisoners of War) details the events of Eli Cohen's double life that lead up to his execution (the opening scene shows Cohen in prison moments before his death – so don't call us out for the spoiler).
Eli is a family man, devoted to his wife Nadia (played by Hadar Ratson Rotem, and who is still alive to this day) and children, providing for them at his mundane, department store clerk job. That is, until, Israel intelligence agency Mossad recruits him, sending Eli deep undercover inside Syria as 'Kamel Amin Thaabet', a wealthy Syrian businessman.
Eli lived under this alias for six years; charming his way into exclusive and wealthy military and political hierarchies, earning their trust, and climbing through the Syrian political ranks. He became best friends with the future President of Syria and was made Chief Advisor to the Minister of Defense. Subsequently, he was able to gain top-secret information about Syria's secret anti-Israel activities that ultimately helped change the course of Israel's history – making him the country's most famous spy.
What does the trailer tell us?
The trailer for The Spy confirms that the Netflix show, which drops on September 6, will shift the majority of its focus onto Eli's struggle to distinguish between his real life and his new secret identity. Cohen says in the trailer: "When I first became Kamal it was just an act. Taking off the clothes, it doesn't work anymore. I can't put him away."
We catch a glimpse into the backlash Eli is forced to deal with as a consequence of becoming more Kamal than Eli – and the effect that causes with his relationship with his wife and children, as well as his mental health. We also catch a glimpse at his other co-stars, such as Noah Emmerich (The Americans, The Truman Show) as Eli's Mossad handler and Waleed Zuaiter as a military officer who wants to join forces with Eli. Everything about this trailer seems ridiculously made up – until you remember, with a punch to the gut, that all of it is true.
Watch Sacha Baron Cohen prove to everyone that he is a jack of all trades on September 6 when the entire mini-series The Spy drops on Netflix.