Netflix is taking 'Top 10' lists and bringing them to its millions of subscribers worldwide. So, there are no more excuses for missing the popular show around the office.
With so much streaming content out there at the moment, deciding on what to watch can become a little overwhelming, especially if you're in charge of movie night. Luckily, Netflix has just announced it will be helping you out with your next pick.
For the first time ever, the streaming giant is going to disclose certain viewership data. Starting Monday, February 24, subscribers will be able to see the overall 'Top 10' titles in a subscriber's country, as well as the 'Top 10' shows and movies, which are updated daily.

The ranking that appears underneath 'Movies' – "Top 10 Movies in Australia Today". 
The overall ranking row will appear on your Netflix home page, but not necessarily at the top. The other two rankings will appear underneath 'TV Shows' and 'Movies'. To find these, the user will have to select these said individual tabs.
TV shows and movies that make these lists will receive a 'Top 10' badge, which will sit in the top right-hand corner of the title, and will remain there until the title falls off the list. No matter where you find the title (aka through the search bar or simply scrolling through the Rom-Com genre), the badge will always appear, making it easy for subscribers to know what's popular without looking directly at the rankings.

The three different lists will appear under 'Home', 'TV Shows' and 'Movies'. 
While Netflix has always had sliding scrollers to break up titles into categories, this is the first time it has ever categorised them based off viewership statistics.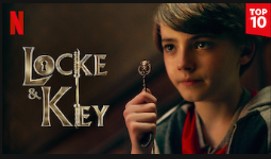 The 'Top 10' badge that will appear. 
The company announced the new feature via its blog post on February 24. Netflix director of product innovation Cameron Johnson said that Netflix had been experimenting with top 10 lists in Mexico and the UK for the past six months and that members in both countries have found them useful.
"We're constantly looking for ways to make Netflix better. When you watch a great movie or TV show, you share it with family and friends, or talk about it at work, so other people can enjoy it too," he said. "We hope these top 10 lists will help create more of these shared moments, while also helping all of us find something to watch more quickly and easily."
Don't waste hours fretting over what to watch – these 'Top 10' lists are about to make picking a popular movie for the night a whole lot easier.
1. From today, there's a new feature on Netflix
2. It's not a randomize button
3. Sorry
4. It's The Top 10 Row!
5. The lists will update daily to show what's popular
6. They'll be broken into three categories:
7. Netflix overall
8. TV shows
9. And films
10. And it looks like this pic.twitter.com/pvxXsHsu3O

— Netflix ANZ (@NetflixANZ) February 24, 2020
Sign up to Disney+
Don't have a Disney+ account yet? There are two plan options to choose from – a monthly subscription at $11.99 per month, or prepay for a year at $119.99 and save on the monthly cost. Both plans include the same features, with unlimited downloads and the ability to stream on up to four screens at the same time. This table includes links to a referral partner.
Brand
Subscription Type
No. of Screens

/same time viewing

Advertised Cost^^

/month or year

Stream the Disney+ library, including Disney+ Originals, Star Wars, Pixar, Marvel, National Geographic & Star
Watch on 4 screens at the same time
Add up to 7 profiles
Unlimited downloads of shows and movies on up to 10 devices

min. cost $11.99 over one month

4

$11.99

Get Deal

Canstar Blue receives a commission for sign-ups through Disney+ *

Stream the Disney+ library, including Disney+ Originals, Star Wars, Pixar, Marvel, National Geographic & Star
Watch on 4 screens at the same time
Add up to 7 profiles
Unlimited downloads of shows and movies on up to 10 devices
Prepay for a yearly subscription and save on the monthly cost

min. cost $119.99 over one year

4

$119.99

Get Deal

Canstar Blue receives a commission for sign-ups through Disney+ *

^^View important information
Photo Credit: sitthiphong/shutterstock.com, Netflix