We've got good news and we've got bad news. The good news is the ladies of Litchfield are returning to our streams. The bad…? It's for the last time. That's right, award-winning prison dramedy Orange is the New Black is returning for its seventh and final season, so be ready to grab the tissues and say goodbye to your favourite inmates when the final season drops on Netflix on July 26.
What is Orange is the New Black?
Cast your mind back to 2013 – traditional networks dominated the airways and audiences, and Netflix was scarcely known for its postal DVD rentals and a scattered amount of movie streaming. That was, until a curious and bold choice was made by the company to release several 'Original' television series, catapulting Netflix to the main stage. And it was Orange is the New Black (OITNB), a show featuring a heavily diverse cast that exposed the horrors of female American prisons, that undoubtedly played a part in putting Netflix on the map.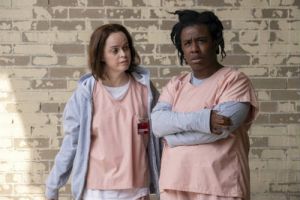 In fact, OITNB has been Netflix's most-watched Original ever, as it was recently revealed that 105 million users have watched at least one episode, as well as being voted Netflix user's favourite show on the platform. But, if you're not one of the 105 million people (surely there's no one actually left?) let us break down the show a little bit more.
OITNB is based on Piper Kerman's memoir, Orange is the New Black: My Year in a Women's Prison, which she wrote after spending 13 months in a minimum-security federal jail. She was incarcerated for carrying a suitcase of laundered money across the Atlantic Ocean.
The memoir was adapted for television by Jenji Kohan, and boom – the most successful Netflix show was born. The show follows protagonist Piper Chapman (played by Taylor Schilling), loosely based on Kerman, a privileged New Yorker who is forced to leave behind her seemingly perfect life as she begins her sentence at Litchfield Penitentiary. Her sudden incarceration causes cracks between her fiancé, her family and her friends – especially after she discovers her ex-girlfriend who ratted her out is being held in the same prison. Piper has to learn to adjust to an environment where money means nothing, loyalty means everything, and the pecking order in prison is a whole new ball game.
Warning: This may make you cry. The Final Season, 2019. #OITNB pic.twitter.com/bUp2yY0aoK

— Orange Is the New… (@OITNB) 17 October 2018
What can we expect in season 7?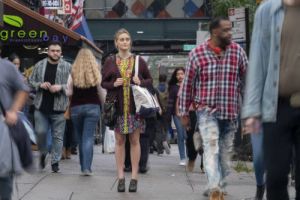 Season six was one helluva ride – and arguably the show's darkest season yet. We watched in sadness as the Litchfield inmates were split up, many of them shipped off to maximum security prison following the events of the riot that occurred at the end of season five. The series then followed the ones in 'max' as they struggled to cope with a gang-like war in new surroundings, unfamiliar faces and harsher conditions as the fallout from the riot continued to snowball.
The majority of the sixth season focused on Taystee (played by Danielle Brooks) as she prepared for a trial after being wrongfully accused of the murder of guard Desi Piscatella in the riot. A heart-breaking scene in the season finale revealed Taystee's fate – guilty and sentenced to life inside prison. However, there is hope yet for the fan favourite, as former prison warden Joe Caputo (Nick Sandow) saw what really happened.
There are many theories floating around what could come of this, our favourite being a Reddit thread detailing that Caputo will create a true crime documentary about Taystee, bringing worldwide attention to her case and eventually freeing her.
We also saw Alex Vause (Laura Prepon) and Piper finally put a cork in their on-again, off-again relationship – with a prison wedding. However, season seven will test their relationship once again as Piper is allowed to walk free from prison and is shown in the trailer struggling to adjust to her new life on parole.
What can we tell from the trailer?
The trailer proves to have one primary theme – justice. Justice for Taystee, justice for Daya (who was forced to take a plea sentence of life for starting the riot), justice for Poussey and justice for every inmate involved in the horrible guard game 'fantasy inmate'.
"What is it you really want?" asks Pennsatucky (Taryn Manning) to Suzanne 'Crazy Eyes' Warren (Uzo Aduba) in the season seven trailer. "Ice cream," replies Suzanne. "And justice."