If you're anything like us, you've probably been spending the past few weeks lying on the couch in a state of slumber, your eyes half-awake as the sixth season of Friends plays in the background for the umpteenth time. Well, that's all about to change. It's time to shape up and get serious – and make the transition from day-time TV to some hardcore crime drama.
Of course, we're talking about Ozark, the Jason Bateman and Laura Linney Emmy-winning money laundering/drug cartel/crime drama series. It's been so long since the previous season that we don't blame you for slipping off the bandwagon – but season three will finally be back on our streams on March 27. And honestly? The Byrde family are in more trouble than ever (if that's possible).
What is Ozark?
Created by Bill Dubuque and Mark Williams, Ozark follows the Byrde family of financial planner Marty (Bateman), his wife and former PR operative Wendy (Linney) and their two children Charlotte (Sofia Hublitz) and Jonah (Skylar Gaertner). The ordinary family resides in Chicago, until Marty's money laundering side hustle (in which he is the top launderer for the second largest cartel in Mexico) takes a turn for the worst. $500 million in debt, he is forced to uproot his family to the Missouri Ozarks so that he can make amends with the cartel. But when the Byrdes make their grand entrance to the Lakes, they become a little too involved in the crime world.
What can we expect from season 3?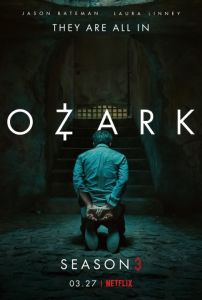 Season two was the beginning of the new Wendy. She's no longer a housewife, she's the queenpin, the driving force behind Marty's operation. She's getting her hands dirty, and we're here for it. The end of season two saw Wendy setting up direct communications with the cartel via lawyer Helen Pierce (Janet McTeer) and backing down on Marty's plan to head to the land of Oz. We can only imagine that there will now be some power dynamic struggles in their marriage – neither of them strikes us as the kind to come in second best.
The season two finale also saw Marty's casino boat finally up and running – the Byrde's biggest money laundering operation to date. The couple are both heavily invested, and we're expecting a lot to go wrong here. Showrunner Chris Mundy hinted that Wendy's mentally unstable brother will be joining them in the third season to make matters even more complicated. "[He's] going to be a very destabilising factor," he said.
This is only the tip of the iceberg. Marty has a lot to worry about – murders, the FBI on his tail, Ruth (Julia Garner) wanting to become a Byrde – oh, and his criminal mastermind of a wife. Sorry Marty, but this is Wendy's world – and we're just living in it.
Where can I watch Ozark?
Catch all 10 episodes of Ozark when they drop on Netflix on March 27. In the meantime, check out the trailer below.
Sign up to Disney+
Don't have a Disney+ account yet? There are two plan options to choose from – a monthly subscription at $11.99 per month, or prepay for a year at $119.99 and save on the monthly cost. Both plans include the same features, with unlimited downloads and the ability to stream on up to four screens at the same time. This table includes links to a referral partner.
Brand
Subscription Type
No. of Screens

/same time viewing

Advertised Cost^^

/month or year

Stream the Disney+ library, including Disney+ Originals, Star Wars, Pixar, Marvel, National Geographic & Star
Watch on 4 screens at the same time
Add up to 7 profiles
Unlimited downloads of shows and movies on up to 10 devices

min. cost $11.99 over one month

4

$11.99

Get Deal

Canstar Blue receives a commission for sign-ups through Disney+ *

Stream the Disney+ library, including Disney+ Originals, Star Wars, Pixar, Marvel, National Geographic & Star
Watch on 4 screens at the same time
Add up to 7 profiles
Unlimited downloads of shows and movies on up to 10 devices
Prepay for a yearly subscription and save on the monthly cost

min. cost $119.99 over one year

4

$119.99

Get Deal

Canstar Blue receives a commission for sign-ups through Disney+ *

^^View important information