With season three only wrapping up a few months ago, the boys of Queer Eye are already back for season four, ready to showcase their makeover skills and to take us on an emotional rollercoaster.
Set to return to Netflix on July 19, season four should pick up where the show last left off, in Kansas City, Missouri, with the latest season expected to contain eight episodes of makeover goodness. Excited? You should be.
What is Queer Eye?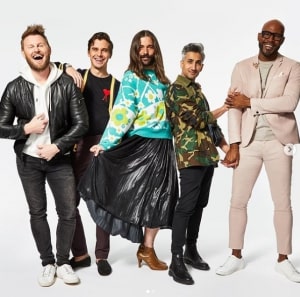 For those who have no idea what we're talking about, Queer Eye is a reboot of the popular early-2000s show 'Queer Eye for the Straight Guy', which followed five style gurus as they helped hapless bachelors find their look.
The reboot follows a similar vein, although has expanded its makeovers to include those from all walks of life, with season three seeing sisters, mothers, fathers and sons transformed.
Known as the 'Fab Five', the gurus of Queer Eye include Karamo Brown (culture), Tan France (fashion), Bobby Berk (interior design), Jonathon Van Ness (grooming) and Antoni Porowski (diet and nutrition), all of whom have become cultural icons in their own right.
What can we expect from season four?
Netflix has dropped not one but two trailers (!) to give us an insight of what to expect from the upcoming season, including Army veteran Brandonn, high school music teacher Kathi and farmer Matt, along with a host of others who are looking for a bit of help to move onto the next stage of their lives.
Check out the sneak peek of who you'll meet this season below.
But wait, there's more
In addition to season four returning to Netflix, the streaming service also announced that it has signed the Fab Five on for another season, with the fifth installment expected for sometime in 2020, although no official details or dates have been released. Still, with Stranger Things done for another season, we've got to look forward to something right?
Check out the official trailer below to get you excited before the first episode hits our screens on July 19.