At a time where many Aussies are now likely to be spending more time at home, a new savior may have just appeared on the horizon. Named Quibi, the American-based streaming platform is looking to launch in April to potentially save us from being too bored while we're cooped up. But how does Quibi work, and is it worth it? Canstar Blue takes a look.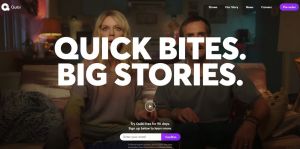 What is Quibi?
Quibi is a short-form mobile video platform which offers viewers 10-minute episodes known as 'quick bites', which are specifically designed to be watched on your phone. Like most streaming platforms, Quibi is a subscription-based service, with monthly plans available. The difference between the two comes down to whether you want to watch ad-free, or you don't mind dealing with a few ads to save some dosh. Designed for both iOS and Android, Quibi will release new episodes every day, as well as give you the option to download and watch your shows offline.
What content is on Quibi?
Boasting over 50 original shows, Quibi features programs covering genres such as drama, comedy, horror, reality TV, documentaries, animation and news programs, meaning there's something for everyone. Quibi's content is broken down into three main categories – Movies in Chapters (features broken into 10-minute chapters), Unscripted & Docs (episodic shows that run under 10 minutes) and Daily Essentials (smaller bites of content around five minutes long).
Here are some of the shows on Quibi:
Survive
Most Dangerous Game
NightGowns
The Fugitive
Flipped
Elba Vs Block
Agua Donkeys
Barkitecture
Fierce Queens
Punk'd
How much does Quibi cost?
Quibi has two subscription plans available for viewers to choose from, so the only choice you have to make is whether you want your quick bites interrupted by ads, or if you want a seamless show binge. Quibi plans are:
Quibi with ads – $4.99/month
Quibi without ads – $7.99/month
As Quibi is an American company, it's unclear if these prices are in USD or have been calculated at Aussie prices, so be sure to keep an eye out when the app launches in April before you sign up.
Quibi Show Trailers
Here are some of the trailers for Quibi originals:
Flipped
The Fugitive
Most Dangerous Game
When will Quibi be available in Australia?
Quibi is set to launch globally on April 6, at which point you can trial the platform for 90 days for free – provided you download the app and sign up.
Where can I download Quibi?
Quibi is available via both the App Store and Google Play, with the app free to download, although you'll still have to sign up to a subscription to use it.
Should I get Quibi?
While the Australian streaming landscape is chockers full of big names like Netflix, Stan and Disney+, considering many of us are likely to be spending more time at home, signing up to Quibi may prove to be a worthwhile decision, even if it's just for sanity. And with Quibi cheaper than most other streaming services (even if you go with the more expensive, ad-free option), it won't break the bank either.
Is Quibi still available?
Quibi is no longer available in Australia or elsewhere, with the company ceasing operation in December, 2020.
Sign up to Disney+
Don't have a Disney+ account yet? There are two plan options to choose from – a monthly subscription at $11.99 per month, or prepay for a year at $119.99 and save on the monthly cost. Both plans include the same features, with unlimited downloads and the ability to stream on up to four screens at the same time. This table includes links to a referral partner.
Brand
Subscription Type
No. of Screens

/same time viewing

Advertised Cost^^

/month or year

Stream the Disney+ library, including Disney+ Originals, Star Wars, Pixar, Marvel, National Geographic & Star
Watch on 4 screens at the same time
Add up to 7 profiles
Unlimited downloads of shows and movies on up to 10 devices

min. cost $11.99 over one month

4

$11.99

Get Deal

Canstar Blue receives a commission for sign-ups through Disney+ *

Stream the Disney+ library, including Disney+ Originals, Star Wars, Pixar, Marvel, National Geographic & Star
Watch on 4 screens at the same time
Add up to 7 profiles
Unlimited downloads of shows and movies on up to 10 devices
Prepay for a yearly subscription and save on the monthly cost

min. cost $119.99 over one year

4

$119.99

Get Deal

Canstar Blue receives a commission for sign-ups through Disney+ *

^^View important information
Picture credit: Monkey Business Images/shutterstock.com